Blog The Recession – Help a Blogging Mama
August 2, 2008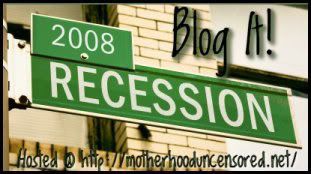 Kristen Chase over at MotherHood Uncensored has written a post called Blog The Recession.
Kristen is a fellow Atlantan (giving her bonus points) and a mom blogger.
Remember that I interviewed her awhile back about the whole Facebook/YouTube breastfeeding debacle? (I do subtract some of those points because she doesn't mention her appearance on my show on her media page. Hmmph!)
Anyway, Kristen I forgive you cause I'm cool like that.
So I read her post and thought this was a fantastic time to talk about:
Help A Blogging Mother Out Won't You?
I would like to talk about how you can help out a blogging mom.
Moms blog for a variety of reasons. For some, it's a way to keep our sanity. For others, writing is just a passion and a blog is less stressful than getting published (no barrier of entry. Feh.)
But just in case you don't know, many of us moms who blog are also in it for the money. While some would criticize us for this choice… well, who cares? I don't.
Some of us need to earn some extra dough to make the family budget work. Others just want to keep our Starbucks card filled.
Others, like me, have to feed our kids because our baby Daddy thinks court ordered child support is optional.
So we kinda rely on you guys, gentle readers, taking some action every once in awhile.
What kind of action am I referring to?
Click through your RSS reader and actually visit our blogs. For those of us who rely on certain forms of advertising, we need this clickage.
Take a product recommendation seriously. You know how we sometimes mention a book we've read and loved, or a homeschool widget that saves us time and makes our butt look smaller, or some other cool product? Click on the link and we might get paid a little tiny bit if you buy the thing.
Visit some of our site sponsors/advertisers. When advertisers see action coming from a place they've advertised, they stick around and renew their ad spots. Tell them we sent you.
Leave comments. Comments are like the crumbs that fall from your table that the dog laps up. We are ever so grateful!
Click around our archives and read stuff. You might find some gems in there and more reasons for advertisers to like us.
Advertise with us. If you have a business and want some more exposure, find a blog where your market hangs out and buy a text link or button or on air ad spot.
Buy our stuff. Many mom bloggers have also written fantastic ebooks. For instance, did you know I have a guide for natural moms who want to start an online business? Yep, sure do. Also have a salad and smoothie cookbook. Or un-cookbook, as the case may be. And other products you can learn about here.
You know what?
In reference to item #2, that is called affiliate marketing. When I need to buy something on Amazon.com, I go to my friend Tiffany Washko's site and look for one of her Amazon affiliate links.
photo credit: ralphbijker
I click it, then place my order.
It doesn't cost me an extra DIME.
But it gives Tiffany a little commission like she needs it, Queen of the Amazon. And she does the same thing for me. (Thanks Tiffany for buying that digital camera!)
Can you take an extra minute to do that for a work at home Mom you love?
Or what about seeking out and buying a product (an ebook, a cloth diaper, a cloth menstrual pad, a sling, whatever) from a work at home mom instead of some fat cat, CEO, cigar smoking man in a corner office?
There. I've said my piece.
More Posts By Carrie:
Comments