August 21, 2008 | 3 Comments
If you're new here, you may want to subscribe to my RSS feed. Thanks for visiting!
Homeschooling has cost me very little. In fact I bet I've spent less to homeschool my kids than I would have if they were in public school.

photo credit: mia3mom
Making lunch at home is cheap. I drive less because of homeschooling, saving gas money. I don't have to buy lists of school supplies. There is no junky overpriced stuff to buy in the name of a "school fundraiser", and no kids to schlep around town to sell said junk.
I'll admit – when I crack open some of those homeschooling or educational supply catalogs, my mouth waters! I have intentionally stayed away from the homeschool conferences for this reason too. No reason to tempt myself with things that I probably don't even need, or could acquire cheaply with a little creativity.
My overall philosophy on learning is that it doesn't take money to get a good education. Forget what the politicians tell you, they're trying to buy your vote with propaganda. Research has shown that more money thrown at the education system in this country doesn't mean a darn thing in terms of the results. (Neither does class size, but that's another blog post!)
Most of the well educated people we think of throughout history spent almost nothing on their education. For example, legend has it that Abraham Lincoln taught himself math with ONE piece of chalk and a slate. Great thinkers like Mark Twain learned from the people and events going on around them, not from fancy and colorful things sold in catalogs.
I have heard people say that homeschooling is expensive – not homeschoolers themselves, but people thinking about doing it.
They start pricing curriculums that cost hundreds (or more!) out of the box and wonder how they're going to afford it – they're also likely thinking of the cost of keeping one parent at home to oversee the child's schooling.
The following ideas are some of the ways I've been able to homeschool on the cheap, and a couple of awesome book recommendations for hundreds more ideas.
Decide On Your Budget
Just like anything else that involves your finances, it's wise to set a homeschooling budget for the year before you begin purchasing supplies. Just doing this one thing might keep you from buying a lot of unnecessary stuff that will end up in the storage closet or listed on eBay.

Know Thyself
Decide on your educational philosophy and be honest about your homeschooling style. This will rule out purchases that won't work for your child or your family.
If possible, test-drive curriculum and other tools before you start buying. (Ask other homeschooling parents if you can peek at their stuff, or attend one of the homeschooling conferences.)
One of the reasons buying curriculum can be so expensive is because most of the time you're buying it sight unseen. It may not be right for your child so you end up selling it at a fraction of retail on eBay.
To avoid this problem, get with the other homeschooling parents in your support group. Ask them what they like and dislike about curriculum they've purchased and used. Read messages on homeschooling support forums online and do the same. Deciding in advance what your style will be means you can adapt the tools to the method, not the other way around.
If you don't want to design your own curriculum or go with an eclectic style however, curriculum in a box type programs may be cheaper than obtaining everything piecemeal. Look around at online auctions or other places where homeschoolers are selling their used stuff. You can pick up barely used supplies this way. You can also purchase inexpensive basic curriculum at bookstores for under $30 apiece. For example, the Learn at Home series are around $15, and I've seen them for less at warehouse stores.
Of course, the online virtual K-12 schools are a free option for a complete curriculum (I've also heard you can get a free computer and internet service provider as part of the deal). Some homeschoolers express concern about this because the child is technically still enrolled in the public school system, and they don't want the intrusion into their private life. But it is an option for those who are really strapped.
Buy Used
You can find great deals at swap meets organized by homeschooling support groups. Hooking up with your local group also means group discounts on field trips. To find one, check with your local homeschool association – a simple internet search will likely turn up several in your area. In the small rural town I used to live in, there were half a dozen I could choose from! Try joining booking coops too.
Yard sales, thrift stores, eBay, Craigslist, Freecycle, "for sale or trade" message forums for homeschoolers online are some more places to find cheap supplies. Public library sales is another place to find inexpensive books to fill out your family's bookshelves. A homeschooler's dollars are probably best spent on a solid home library.
Be Creative
When I was a kid, every child I knew who was homeschooling did Calvert. Calvert is a wonderful classical homeschooling program but it's also quite pricey. Nowadays, many parents are getting creative and opt to design a curriculum. I've done this from the start. I don't want to get stuck in a curriculum that I don't like or that doesn't mesh with my child's learning style.
There are so many options for homeschoolers. You can create unit studies, you can go for a "living books" curriculum by making lists of reading material and getting the books from the library. You can print an almost infinite number of free online worksheets (just search for what you need, for example "free third grade math worksheets" etc).
Math manipulatives can be super cheap. Instead of buying fancy manipulatives from the educational catalogs, use stuff you have around your home to teach the kids math – dried beans, dried macaroni, Lego toys, wooden blocks, measuring spoons and cups can teach addition, subtraction, multiplication, division, fractions and basic geometry.

photo credit: evelynishere

Be a Freebie Seeker
Did you know that many office supply stores host teacher appreciation days once a year around August? These are a source of free and discounted items and giveaways.
This month I attended one at Staples and got a free thumb drive for my trouble. (Last year they gave away a free tote bag filled with stuff.) So far I've spent less than $10 and have all the paper, pens, pencils, erasers and colored pencils I'll need for the year.
Staples, CVS, Walgreens and Office Depot have been offering FREE and for a penny school supplies for several weeks now. They're doing these loss leaders to get people in the store and it's a goldmine for us homeschoolers.
Many larger bookstores such as Barnes and Noble also offer discounts to teachers throughout the year, including homeschooling parents. You just ask customer service for a discount card. They'll put you on their email list and invite you to special educator days throughout the year with awesome speakers, giveaways, freebies, even free coffee and refreshments from the Cafe!
I got to meet Ron Clark, an award winning educator and author of The Essential 55 at one of these events. He signed my book for me then when he found out I was a homeschool mom, got out of his chair and bowed to me. LOL! Barnes and Noble also gives away free books in the summer.
Public libraries are a neverending source of free homeschooling materials. From the obvious – unlimited free books – to educational DVDs, great music on CD, music instruction on DVD and CD, arts and crafts activities open to the public, symphony days, storytime, even continuing education for older teens and adults.
These are the things I've always done to save money, but lately I've read a couple of awesome books that have given me tons more ideas.
This book was written by two homeschool moms whose families couldn't have been more different. The thing they had in common was an intense love of homeschooling and their kids, and a desire not to let small budgets stop them.
What was interesting about this book is that it spends the first few chapters talking not about homeschooling per se, but about making more room in the budget, period. From saving money on groceries and other budget line items to launching home based businesses, it encourages making wiggle room in the family finances, which is helpful information all by itself.
Then the latter chapters focus on specific ways to educate kids for pennies. It covers everything from the basics of designing curriculum cheaply to enrichment activities like the arts, musical training and sports. It also spends a few chapters on teens and college bound homeschool kids.
The sections on teaching math using everyday items and also the information on teaching a second language were especially useful for me.
This book was written in the 90′s so the information on using computers and the Internet are a bit outdated but overall the book is chock full of useful tips and ideas.
One great idea I got from this book is to think more about bartering. I want my kids to have piano lessons but it's not in the budget at this time. So, I'm looking around for a local piano teacher who needs a website and offer to build her one in exchange for a few lessons for the kids for me.
Ditto with Spanish "class". I want to learn Spanish and I want the kids to learn too. I have a few Spanish speaking friends who are not teachers or tutors and have offered to barter or pay them a small fee for weekly lessons. Still working out the details on that. The ideas in this book have really stimulated my creativity.
This hefty volume, also written by two homeschooling moms, is another awesome resource. Because it was published in 2000, it has many online tools and websites listed in its pages.
This book claims to have 1,200 resources listed for home educators, and I believe it. While the first book deals mostly in principles, this book has more specific recommendations.
It's organized into the following sections: Curriculum Scope and Sequence; Education Essentials; Language; Mathematics; Art; History; Music; Social Studies; Humanities; Science; Health and then finally Graduation. This makes it easy to find the specific information you're looking for.
Homeschool Your Child For Free would be a wonderful addition to any homeschooling parent's library, a reference to pull off the shelf whenever you're scratching your head wondering where you can find free information for your child on any particular topic.
For more homeschooling ideas, don't forget to sign up for the free homeschool tips list!
August 11, 2008 | 4 Comments
Well, I did really well on the first week of my No Spend Month. I technically started on Monday the 4th, not the first of the month.
Here is what my spending looked like:
$2.50 at Staples for school supplies. I simply couldn't pass this one up! I got 20 free file folders, spiral bound notebooks for .05 apiece, and ten-pack bags of pencils and pens for .50 apiece. These will last me for a year so I don't mind this purchase at all.
$0.95 for a library late fee (Ack! I call this Stupid Tax!) Don't you just love the public library? It's a frugal mom's dream. I took the kids to the library Wednesday and we got a couple dozen books, and the movie Girl of the Limberlost (the Lactivist is always talking about the book, so when I spotted the movie I grabbed it. Haven't watched it yet).
$1.98 at Starbucks.
Sunday I went out with a girlfriend for some grown up time. We were going to do something cheap (I told her about my No Spend Month),  just the two of us, but at the last second she called me saying her brother was in town from another state, and she and her hubs wanted to take him out to dinner, and would I meet them at a local restaurant ($20 a plate! Gulp!). She said she would understand if I didn't come.
I told her she was worth it, so we went out. And at the end, her very hot and very sweet but unfortunately married brother picked up the check. Was that cool or what? It prevented me from going over budget!
So my grand total was less than $5 which puts me under budget! Yea!
And just today I discovered that Crunchy Chicken hosts an ongoing Buy Nothing Challenge so I am putting her button here: 
So congratulate me already! I put an extra $100 in the savings account above and beyond the usual auto deposit that goes in every month.
August 3, 2008 | 10 Comments
I found another blog I enjoy and her recent challenge to spend nothing in July got me thinking.
Of course, unless you own a farm and don't use fuel, it's probably impossible to spend nothing… but the point is to spend as little as possible and really question all your spending for a time.
I'm going to do this in August.
I have an important goal for October, and this will help me get there a little more easily.
I have set a goal of moving out October 1st.
For those of you who don't know, I've been living in my parent's home since December 2006. It's been a blessing to be able to stay here for more than one reason, the least of which is being able to save money, build my business and meet some financial goals (like getting out of debt. Woohoo!).
But it's time to move.
You know that old saying about leaving the party while you're still amusing?
My parents say they like having us here and feel safer with us nearby, but they're just being nice. They deserve to have more peace and quiet, their own routine and alone time (no matter what my mom's comment says below. lol!)
So No Spend August will help me meet some goals. For one, I have my security deposit and first month's rent set aside in savings, but I also want to have an emergency fund. My emergency fund got eaten up a couple of months ago when I dropped a grand on car repairs.
The awesome back to school sales going on right now will tempt me! And in fact I may take advantage of all the .01, .05 and .09 deals I've seen at the drug stores, office supply stores and etc.
I've set a budget for $10 a week.
Outside of food, petrol and bills (like business expenses), I can only spend $10 a week.
The kids don't need any new clothes or shoes.
I don't need any new clothes or shoes.
I don't need any new household items until I move.
I can (gulp!) live without Starbucks for a month.
I can do free entertainment. Helloooo library books and DVDs!
Want to join me?
July 11, 2008 | 2 Comments
Every once in awhile a reader emails me to ask how to find bargains on natural products. The sometimes frustrating thing about using non toxic skin care and other products is that they're more costly.
True enough.
Good stuff does cost more. But, if you're a savvy shopper and willing to do a little digging, you can find bargains on natural products. Here are some tips on how to do that.
Be alert to clearance bargains. In just the last week I've snagged some great deals on a couple of natural beauty products at my local Publix grocery store. Not exactly a health food co-op, it's the closest grocery store to me (a 4 minute drive) so it's the place where I do the bulk of my shopping. They always have a few shopping carts full of clearance items and I always check it out.

A couple of recent finds: Burt's Bees Pomegranate Shampoo and Conditioner for $3 each (retails around $8 each). I bought several of these! I found Burt's Bees lip gloss for $2 too.

Another find: California Baby Diaper Rash Cream for $3 each (normally retail at around $10). I don't have a baby in diapers, so I plan on giving these away here sometime soon.

I've also snagged some Burt's Bees lotions on clearance at CVS. There are always products being discontinued and such and since a lot of the more natural products don't sell as well at larger drugstore chains, you can find them marked down occasionally.

 

Check company websites. I am frequently able to print off valuable coupons for products I use regularly or want to try, just by visiting the company's website. Sometimes you have to sign up for their newsletter, but that's ok because then you'll get more coupons straight to your inbox.

Ditto for grocery store websites. Again, Publix sends me their print magazine in the mail and today I got about 20 $1 off coupons for natural/organic items, including one for the Clorox GreenWorks line which I really like. So before you buy a product, take a minute to check out the website and see if they're offering any coupons.

 

Visit frugal/coupon/freebie websites. There are quite a few blogs I visit regularly to check out the freebie and coupon postings. Just to name a couple that have give me valuable info recently: Money Saving Mom, BeCentsAble and Freebies4Mom

I have these 3 on my RSS reader and check them daily. They all turn up some great deals, including this one: Walgreens Saturday event with Yes to Carrots coupons and freebies. It just so happens that I will be passing by Walgreens Saturday on my way to another errand so I am absolutely going to drop in and grab a free Yes to Carrots Lip Butter!

It was one of these sites that alerted me to free coupon booklets for organic products that were distributed several weeks ago in grocery stores and health food stores. I'm still using these up, and most of them for $1 off various organic food items.

 

Check here. I post discount codes for online retailers like Amazon and other sites as often as I get wind of them. It seems that about once a month Amazon has a percentage off sale on organic and natural product lines.

Make sure you're signed up for my newsletter because I send them out there too (enter your name and email in the box on the upper right hand corner of the site). I also get discount codes periodically from some of my guests who have ecommerce sites. In a few weeks I'm featuring a company that sells frozen organic baby food (they ship!) and they're offering a freebie, so stay tuned for that.

 

Contests and giveaways. Winning free stuff is cheap. You can sign up for newsletters like Ecobunga to get wind of the best giveaways and contests for natural and organic products all over the web.
So those are a few of my strategies. Of course, some of the best ways to save money are to minimize the number of products you use in the first place and make your own stuff as much as you can.
What are some of the ways you save money on natural/organic skin care and other products?
July 2, 2008 | 2 Comments
Smoothies are awesome. I don't have to convince you of that because you're probably already making smoothies all the time now for your self and your family. The fact that many people pay $4- $5 for a fancy smoothie testifies to that!
Smoothies are great because they're:
made from the most basic of ingredients
take minutes to whip up
can be endlessly customized for your needs
taste delicious
are very nutritious and can be chock full of vitamins, minerals and phytonutrients
an easy way to get said nutrients in your kids without them knowing.
Smoothies can even assist in weight loss efforts, help you have a more frugal kitchen, and of course improve your overall health.
Here is where the Simply Delicious and Nutritious Smoothie Cookbook comes in!
Here are just a few of the yummy recipes the ebook includes:
Sweet and Sour Smoothie
No Need for Pancakes Smoothie (I know you're curious about this one!)
Cheesecake in A Glass (great for those cravings!)
You Could've Had a Smoothie (lots of veggies)
Greener Side of Fruit Smoothie
Sweet Potato Pie Smoothie
Green Pineapple Paradise
Raspberry Cream Smoothie
Pineapple Banana Mama
44 smoothie recipes in all!
The ebook also has tips on: boosting your weight loss efforts by drinking smoothies, adding more nutrition (including sneaking health infusing ingredients that your kids may refuse otherwise!), and saving money with smoothies.
I am offering this recipe book as a "Thank You" special to my subscribers, listeners and blog readers. Once I launch this to the general public it will be priced higher.
You can get:
Just The Smoothie Recipes for $5
(That's about the price of ONE of those fancy schmancy smoothies that have too much sugar anyway!)
- OR -
The best deal – my Ultimate 365 Salad Cookbook (named such because it has 365 salad recipes) along WITH the Smoothie Recipes for the super low price of:
The Salad Cookbook is $11.97 so you're basically getting the Smoothie Recipes thrown in for FREE.
Sound good? Click one of the links above and get your cookbooks instantly.
P.S. As a customer of either of these cookbooks, you'll also get lifetime updates for free! As I add more recipes I will release a new version once a year. You'll get free access to these new improved versions.
Thanks so much for being a listener!
June 13, 2008 | 2 Comments
Last Saturday my Mom and I headed to a town about half an hour from here in order to go Yard Sale shopping.
This part of town is well known for its awesome yard sales. I took the middle seats out of my van so I could fill it up, lol!
Yard sales are one of those things I do, like thrift store shopping, to save money and help the environment too.
Yard sale prices are generally even better than thrift stores, but they require more digging and more effort.
I am going to share my finds from about 4 hours spent yard sale-ing. At the end I'll share how much I spent.
First, I'll share some of my best yard sale tips.
Start early. We head out at 7:30 because in this area, dealers come buy up good stuff from yard sales to sell at their stores. The early bird gets the worm… plus you can quit when it gets too hot.
Bring small bills. Don't make the host of the sale give you all their change. Bring lots of ones. These make it easier to bargain too. If you buy several items, you can ask if the seller will give you a deal. This will work much better if you take out what you're willing to pay and start handing it to them.
Don't be afraid to dicker. Yard sale hosts are expecting it. Don't be insulting though. If you buy something for .50, don't ask if they'll take a quarter. But if you're buying several items that total, say, $7, ask if they'll take 5. Sellers are more likely to dicker on the second day of their sale, and later in the day – they don't want to pack it all up and take it back inside their home!
On to my finds.
For the girls: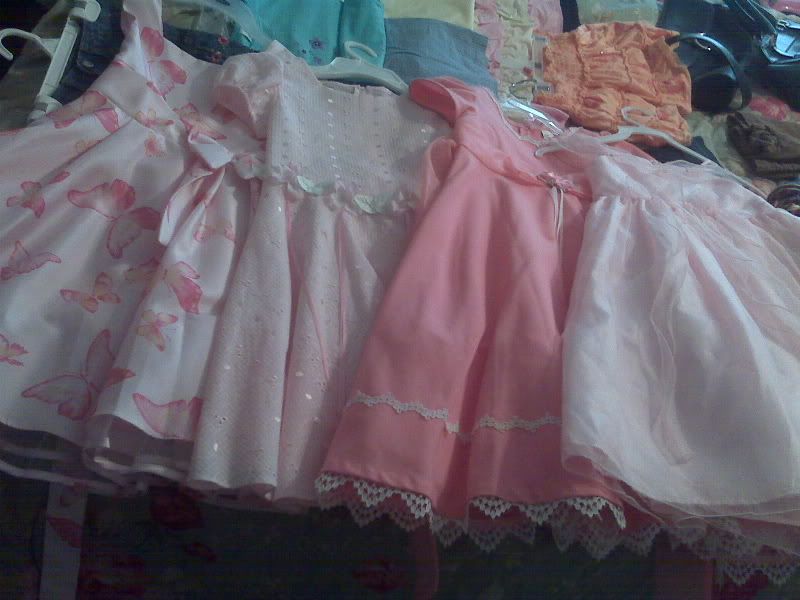 6 Dressy Dresses – (These were the best find of the day, at $1 each.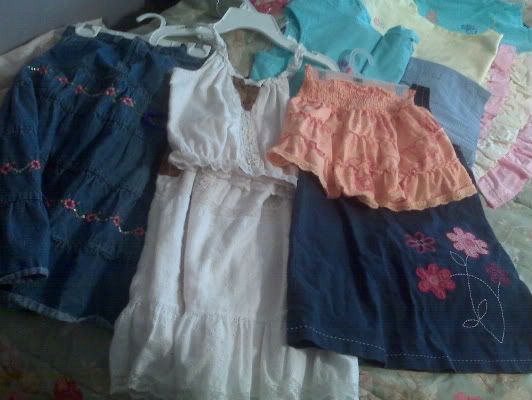 More skirts, dresses and skirt/top outfits – most were .50 and $1 each set.
Casual shirt and skort sets (two of these had tags still on)
Casual separates: shirts, shorts (and a brand new bag with 10 pairs of boy's undies)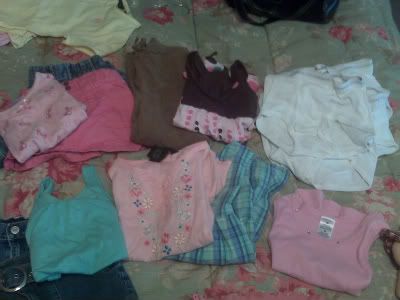 For the Boys:
A Spiderman backpack (my 7 year old has been asking for one for months), two pairs of shorts and two pairs of pants, two pairs of dress shoes and a dress shirt.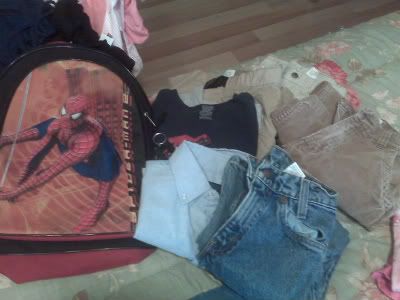 Books books books! (Not all pictured – actually a large box full)
Also a new mouse pad with a cool gel thing for my wrist – I love it! Stationary and journals and notebooks for the girls (they go through these like crazy).
And finally,
For Mama: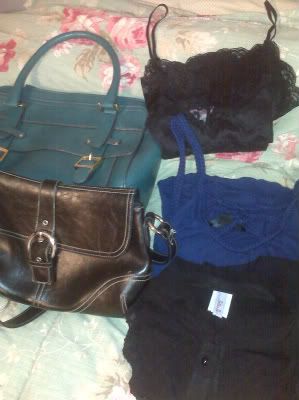 Two new purses, 5 summer tops
Jewelry: Sexy leather choker, black beaded necklace, red beaded earrings, black earrings, red watch, more..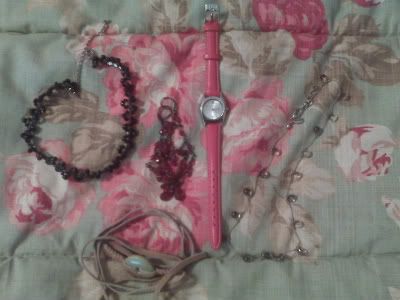 Some of the stuff I got isn't pictured, like more of the clothes and a brand new IKEA Fisk hamper.
Guess how much I paid for all this great stuff?
$39.
Do you do yard sales?
May 21, 2008 | Leave a Comment
I recently had a chance to read The Household Helper's Guide to Making Your Home More Energy and Cost Efficient.
This is a topic we're all concerned about – whether our motivation is using less fuel or saving money – or both!
This ebook was a quick read and didn't waste time with too many details, it got right down to the business of making changes in your home to lower your energy costs. It starts with knowing what you're currently spending to find out if you can lower those rates.
The book explains how to research products that claim to lower energy costs to make sure you're getting what you pay for. It also lists many immediate tactics you can employ right away as well as long term approaches that might cost a larger investment of time and money. It explains how to check your home for leaks that lead to higher heating and a/c costs. (Pretty easy to do, even if you're not the handyman type.)
Even the way you decorate and believe it or not, clean can cost or save you money. It even shows how your landscaping can help lower your energy costs. (We know trees are nice to look at but who knew how much money that can save you?)
All of these energy saving habits you can develop will add up over time to equate into a whole lot of savings. You can download your copy of the book right away here.
April 11, 2008 | Leave a Comment
Amazon is offering some nice discounts on natural and organic products in April, including:
Save $2 on Neti Pots (and if you don't know what in the heck a Neti Pot is, find out cause they come in real handy during allergy season. Read about this Neti Pot system.)
$10 off Natural and Organic personal care products
Save $20 on Eco Friendly Cleaning products
Save $10 on Rechargeable batteries (this is nice because rechargeables require a bigger up front investment, but boy I love them! You know how kids go through batteries!)
Save $20 on NatureMade supplements
AND Cute Baby Shoes has a special 50% off coupon code! It is: secretsale
Just go here to shop (before April 12!) and get half off your order. Cute Baby Shoes offer soft soled leather shoes for babies and toddlers – and they are true to their name.
ONE MORE:
GAIAM is offering $10 – $20 off your order. This one expires April 17th.

You're welcome.
March 29, 2008 | 12 Comments
Beth over at NaturalMommy posted on her blog that she's rethinking some of her makeup and skin care shopping as of late. I left a few lengthy comments over there but also wanted to discuss this on my blog. I've already expressed what I see as some of the problems of working the CVS system – the tempation to obtain products that really aren't good for you or for the environment, just because they're free.
Basically Beth was asking for other natural mommas to share their tips for getting pretty on a budget – and using natural and safer products all the while. This can be a challenge. Personally I hate spending money on beauty stuff, so I do a combination of things to get cute on a budget including: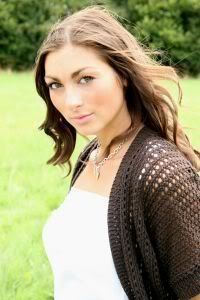 1) Just plain using less stuff to begin with (a lot of skin care stuff is unnecessary and overkill). Most beauty experts agree that noone needs toner, for example. You need a gentle cleanser (only once a day, at night. Splashing your face with water in the morning is sufficient) and a moisturizer, preferably with sunscreen.
Washing your hair less (or skipping the shampoo altogether) works too. I have very thick, coarse, wavy/curly hair and only shampoo once every 4 days. Any more than that and I resemble a brunette Brillo pad. Or Simba with his finger stuck in a socket. And the styling product I use is a little bit of moisturizer in my hands mixed with a tiny bit of styling gel. I learned this trick years ago and it works great for my hair texture.
When it comes to the kids, I never used soap on their skin at all when they were babies. Ever. Water is sufficient to clean a baby's skin. As they got older, Dr. Bronner's was my friend. The stuff goes a LONG way. I dilute! dilute! mine just like it says on the bottle.
I never needed diaper rash cream because my kids didn't get rashes because if they even looked rashy I just took the diaper off or loosely pinned on a prefold and it cleared up the same day.
2) Making my own or using really simple ingredients for skin care. For instance olive oil for a makeup remover and moisturizer. And sugar or salt scrubs to scrub my body, and baking soda to exfoliate my face. Oh and making my own homemade tooth powder. (which my Dentist approves, sans the cinnamon!) Here are some more of my cheap green beauty tips and natural skin care recipes.
One thing that surprised me was the Pollyanna attitude of some of the other commenters. Perhaps they don't realize that cosmetics and personal care products aren't regulated the way that the food supply is.  Manufacturers can put pretty much whatever they want in makeup and skin care products without anyone looking over their shoulder. They don't have to prove the safety of their products.
Putting our head in the sand about stuff we slather on our bodies isn't smart. We take care to eat well – why would we pay less attention to what we rub in and on our skin, the body's largest organ and the immune system's first line of defense? To pretend that everything in the marketplace is safe is not smart. As an example, women in my mother's generation thought they were doing the right thing by applying talc to their baby's tushies. Now we know that talc can cause cancer. If we can easily make a safer choice, why wouldn't we?
One good place to search for safer products is the Safe Cosmetics Database. Searching through the website, I've found that some of the data needs to be taken with a grain of salt. For example, some of the Burt's Bees products get poor ratings, but upon closer inspection, it appears that the ingredients in question (like sodium borate or castor oil) are only harmful or toxic in very large amounts. Still, it's a good place to start.
How do you get pretty on a tight budget – while still using natural ingredients?
March 27, 2008 | 1 Comment
After becoming a mom, Kathy Cozonac of Broomhuggers switched to natural cleaning products. Then she started a business to meet the needs of people who only want non-toxic, safe products in their homes. Some of her customers have chemical sensitivities, others just want to minimize their exposure to harmful chemicals.
Kathy likes the Shaklee line of cleaning products and also makes other recommendations on her blog.
To increase speed and effectiveness with cleaning, use the right tool for the job. Homemade cleaners are fine for light, frequently cleaned areas, but for deeper cleaning or for neglected areas, a commercial product is often more effective.
Kathy mentioned that apple cider vinegar has been proven more potent at killing germs than white distilled vinegar.
You can listen on the site or download the mp3.