March 12, 2008 | 2 Comments
If you're new here, you may want to subscribe to my RSS feed. Thanks for visiting!
My 2 year old daughter and I avoid wheat so I'm always on the lookout for wheat and gluten free recipes. We seem to do with with spelt, but I feel better when I limit grains, period. Oats are fine if they're soaked overnight and rice doesn't give me any problems. Here is a wheat/gluten free recipe for banana bread.
Enjoy!
Gluten Free Banana Bread
Ingredients:
1 stick organic butter, softened to room temperature
3 to 4 large, ripe bananas mashed
2 cups rice flour
1 cup Sucanat or Rapadura
1 cup chopped nuts, optional
2 large organic or free range eggs
2 teaspoons aluminum free baking powder
1 1/4 teaspoon gluten-free vanilla extract
Directions:
Preheat oven to 325. Grease and rice flour a 9-inch loaf pan. Blend butter and sugar in a large bowl until creamy. Add vanilla, eggs and bananas. Mix dry ingredients in a separate bowl; add slowly to banana and butter mixture. Add nuts, if desired. Blend batter until well mixed and then turn into loaf pan. Bake for 70-80 minutes or until edges are browned.
March 8, 2008 | Leave a Comment
Each Saturday I'll post a free salad recipe from my new salad cookbook. It ha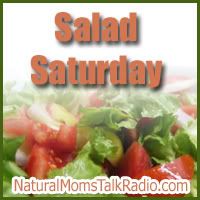 s over 365 recipes, so you can either buy it now or just hang around here for the next 6 years. LOL!
Apple Cider Salad
2 packages gelatin powder — unflavored
2 cups apple cider
1/4 teaspoon sea salt
2 cups apples — diced
1/4 cup black walnuts — chopped
1 tablespoon chopped parsley
cooking oil
lettuce leaves — for decoration
1. Put 1/2 cup cold water into a small bowl. Sprinkle two envelopes (2 tablespoons) of
unflavored gelatin on water. Let stand 5-10 minutes to soften.
2. Heat 2 cups apple cider until very hot; add salt. Remove from heat and immediately add
softened gelatin. Stir until gelatin is completely dissolved. Have a 1 quart mold lightly greased with cooking oil. Do not use olive oil. Spoon about 1/2 cup of gelatin mixture into mold and place in refrigerator.
3. Chill remaining mixture until slightly thicker than consistency of unbeaten egg white. Just before large bowl of gelatin is desired consistency, dice apples and chop walnuts and parsley. Add this to the gelatin and place into the mold which already has thin bottom layer of gelatin. Chill until set.
4. Unmold onto serving plate which has been decorated with lettuce leaves; curly endive is a good choice.
March 1, 2008 | Leave a Comment
Each Saturday I'll post a free salad recipe from my new salad cookbook. It ha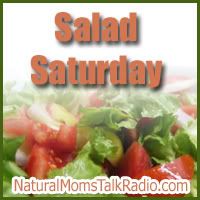 s over 365 recipes, so you can either buy it now or just hang around here for the next 6 years. LOL!
ANOTHER BEAN SALAD
1/2 cup Rapadura or Sucanat
1 teaspoon Sea Salt
1 cup Cider Vinegar
16 ounces Green beans, can — drained
16 ounces Yellow beans, can — drained
16 ounces Lima beans, can — drained
16 ounces Garbanzo beans, can — drained
16 ounces Red kidney beans — drained
1 each Green pepper — slivered
4 each Celery — sliced
3 each Onions, medium — sliced thin
Combine sugar, salt and vinegar in pan, bring to boil for 1 min. Cool. Toss all other ingredients together and pour the vinegar mixture over them. Marinate for 24 hrs in refrigerator, stirring occasionally. 
February 27, 2008 | 8 Comments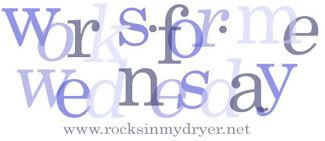 I don't know that I've ever bought a box of cocoa mix. Why would I, when homemade is almost as easy, much cheaper, and healthier too?
Case in point: A box of Swiss Miss cocoa mix contains the following:
sugar, modified whey, cocoa (processed with alkali), hydrogenated cocnut oil, nonfat milk, calcium carbonate, less than 2% of: salt, dipotassium phosphate, mono- and diglyderides, artificial flavor, carrageenan
Hmm… some of those things I just don't want my wee ones to eat. Plus, all that packaging… with the cardboard box it comes in plus the individually wrapped servings, it just seems so wasteful.
So, I thought I would share my Homemade Hot Cocoa recipe for this week's Works for Me Wednesday. It's a slight adaptation of the recipe that appears on the side of the Hershey's Cocoa containers.
Firstly, grab a medium sized saucepan with a heavy bottom. Put about a half cup of water in it and place it on medium/high heat. While the water starts to boil, add:
1/4 cup cocoa
1/2 cup Rapadura or Sucanat
a dash of sea salt
Let the mixture boil for a couple of minutes and stir it constantly. Then, turn it to low and add:
4 cups organic (I use raw) milk
1 tsp. all natural vanilla flavoring
Let that heat until it's as warm as you like. I usually dip out two cups for the girls right away while it's just warm, then let it heat up a minute longer for the boys and me. The whole process from start to finish takes LESS than 5 minutes.
You can also add a dash of cayenne to the adult's cups if you like. And, did you know that a cup of hot cocoa has more antioxidants than most people eat in two days? One more thing: If you like to drink Mochas, you can use a tablespoon of the cocoa/sugar mixture to a cup of strong, freshly brewed coffee, then add hot milk and skip the trip to the fancy coffee shop.  
Just when you thought I was done talking about chocolate. LOL!
February 23, 2008 | Leave a Comment
Each Saturday I'll post a free salad recipe from my new salad cookbook. It ha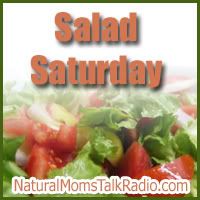 s over 365 recipes, so you can either buy it now or just hang around here for the next 6 years. LOL!
Adreana's Greek Pasta Salad
1 pound rotini
1 pound boneless skinless chicken breasts
3 stalks celery — chopped
1 red bell pepper — chopped
2 1/4 ounces black olives — sliced
4 ounces feta cheese — drained & crumbled
3 green onions — finely sliced
16 ounces all natural Italian salad dressing
Cook chicken in water to cover with 1 bay leaf. Bring to boil and cook for 30 min. or until juices run clear. Cool and remove skins. Or, you can cook chicken in frying pan until cooked through. Cut into bite size pieces.
Cook noodles and drain. Add all ingredients and mix well. Serve warm or cold. Serves 6.
February 16, 2008 | Leave a Comment
Each Saturday I'll post a free salad recipe from my new salad cookbook. It ha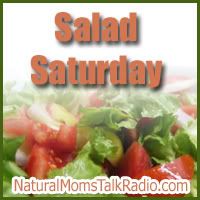 s over 365 recipes, so you can either buy it now or just hang around here for the next 6 years. LOL!
24-Hour Slaw

3/4 cup Rapadura or Sucanat
1 lg. head cabbage — shredded/not chopped
2 lg. red onions — thinly sliced
Hot Dressing — see below
Stir sugar into cabbage. Place half of the cabbage in a large bowl. Cover with onion slices. Top with the remaining cabbage.
Pour boiling hot dressing over slowly. Do not stir. Cover and refrigerate at once. Chill 24 hours. Stir well before serving.
HOT DRESSING
1 teaspoon celery seeds
1 1/2 teaspoons salt
1 teaspoon Rapadura or Sucanat
1 cup cider vinegar
1 teaspoon dry mustard
1 cup olive oil
Combine celery seeds, sugar, mustard, salt, and vinegar in saucepan. Bring to a rolling boil. Add oil, stirring, and return to rolling boil. Makes about two cups.
February 15, 2008 | 3 Comments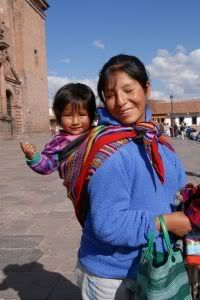 Well I just spent the last ten minutes learning that there is no Spanish word for blog.
I was going to get all fancy and name this post "blogging for chocolate" in Espanol, but that's a little hard to do when you:
1) had about 15 minutes of Spanish class in 7th grade and
2) there's no word for it anyway!
Well, I'm sure the cool babywearing mom on the left would know how to say it. Maybe it's something like "online journal" or "website diary" or something. And I found that picture at stock.xchng and have been waiting for just the right post to publish it in! Yea me.
And you know the best hot chocolate has a little cayenne pepper in it? Same for chili (served up with a little cocoa powder in it, that is).
But I don't know the Spanish word for blog, so, this post is simply titled "plain chocolate".
Here goes.
Show that inspired this post: Marie Ynami's show with yours truly at Mommy Community
100 words: Marie was a sweetie and invited me to talk about my Ultimate 365 Salad Cookbook.
Which, incidentally, has at least 5 Mexican/Latin inspired dishes. Including Mexican Green Bean Salad. And Mexican Beef Salad. And Jicama Cole Slaw. And California Chicken Salad featuring tomatillo. Say it with me. TOE-MAAAHH-TEEEE-YO. And Mexican Pasta Salad. And other recipes featuring Spanish olives.
So, go buy it. Ahora!
Link to Moms Talk Radio
February 14, 2008 | Leave a Comment
LaTara of Vegan Family Living talked about soul food on her show last week.
I grew up eating soul food like black eyed peas and collard greens, fried chicken, sweet potato casserole, squash casserole (one of my favorite foods in the world), fried okra, cornbread and dressing, pinto beans, with chow chow on the side….. mostly I got these delicacies at my Grandmother's house (my Mom was a great cook but she's from out west, she didn't cook "Southern" so much).
A lot of these dishes are actually quite healthy. Southerners like my Grandparents ate a lot of vegetables and beans. People make fun of Southerners because of the way they eat, but most of the older people I know who ate bacon with breakfast every morning were eating vegetables they had grown themselves in their gardens, meat they raised by hand, eggs from chickens that were pets. In my opinion their diet was far superior to a lot of people's today. They also worked very hard and burned off all that fat.
I am amazed that LaTara can make vegan "fried chicken"! But, I'm probably never going to eat chitterlings.
February 14, 2008 | 2 Comments
All this talk of chocolate reminded me about my raw chocolate candy recipe that Tiffany Washko asked for last week. These snacks are yummy for anyone, but if you or your child is sensitive to wheat, they're flourless too!
Raw Chocolate Candy 
1 cup cashews, chopped fine
1 cup almonds, chopped fine
1/2 cup raw honey
1/2 carob (you can also use cocoa if you prefer)
1 tsp sea salt
1 T. all natural vanilla flavoring
1 cup grated coconut
Warm honey by placing the jar in a bowl of hot water. Mix honey, carob or cocoa, salt and vanilla and mix well. You can either chop the nuts in a food processor or the blender. Process until finely chopped. Add coconut and pulse until blended. Place in bowl and add cocoa mixture, blending well.
Place greased wax or parchment paper on a cookie sheet. Spread mixture on top. Place in refrigerator until firm, typically several hours. Then form into balls, or cut into small squares. You can also use other nuts if you wish.
February 14, 2008 | 1 Comment
About a year ago I interviewed the author of Glorious One Pot Meals, Elizabeth Yarnell. But I never did try any of the recipes. Now I'm kicking myself and asking, where has this cookbook BEEN all my life?!
I had a good reason for not trying the recipes, because they all require a cast iron enameled Dutch oven, and I didn't own one. But when I was at IKEA recently, I picked up a 5 quart Dutch oven for the low price of $59.
I LOVE this cooking method and I LOVE this pot. I've been cooking the most delicious healthy dishes in the last few days and it's just as easy as using a slow cooker but has some unique benefits.
For one, the veggies stay intact and retain their color and integrity. I don't like smushy, grey veggies and that often happens in a slow cooker. Every night I've gotten rave reviews from dinner.
Secondly, I can assemble dinner in the Dutch oven in the morning (similar to a slow cooker) and put it in the oven 45 minutes before dinner. The flavors seem to intermingle and blend together in such a lovely way. The food is so aromatic and best of all, just ONE pot to clean!
And I love that the meat, whole grain, and veggies are all cooked together at once. It makes it so EASY to cook healthfully.
Once you get the ratios and layering aspect down, you can experiment with your own favorite recipes. My ONE caveat with this cookbook is that the recipes have little fat. I find myself adding pats of butter or coconut oil (because fat is very good!) to the top of the food, but that is a very small issue.
You have to look at this cookbook. Here is a Glorious One Pot Meals cookbook review that one of our reviewers wrote.