January 4, 2009 | 2 Comments
If you're new here, you may want to subscribe to my RSS feed. Thanks for visiting!
What's wrong with conventional nail polish?
Plenty.
In fact, I've been scared off from painting my girls' fingernails and toenails because of the ingredients in typical nail polishes. Such things as formaldehyde (a known carcinogen), toluene and phthalates (both toxic to the reproductive organs).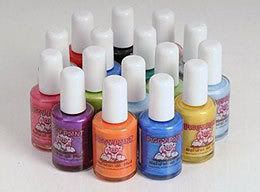 The really disturbing thing is that since little girls tend to chew off the polish quite a bit, not only will they be exposed to these nasties through their noses when the paint is applied, but also through their mouths when they chew or bite their nails.
So I was pretty stoked to find out about Piggy Paint non toxic nail polish and remover. Invented by a mom (of course!) of two girls, its claim to fame is that it's "safe as mud". Melanie, the mom in charge of Piggy Paint, says it can even be used on the compost pile.
Very impressive.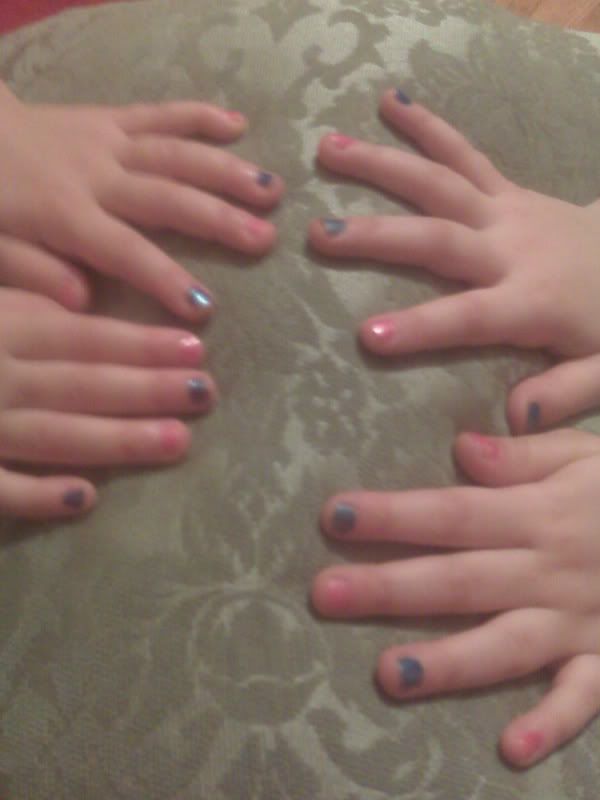 You can see the girls' nails painted with alternating "Forever Fancy" (pink) and "Tea Party for Two" (blue).
When I opened the bottles to paint their nails, I was amazed to find that the polish had NO ODOR.
I don't know about you, but on the rare occasion I step into a nail salon to get a summer pedicure, the smell just about knocks me down.
Piggy Paint is pleasantly free of any kind of noxious odor, which tells you something right off.
I was also happy with how long it lasted. I painted my toes the blue color and it looked good for several days. My thought was that it would wear off sooner (like those peel off nail polishes I remember when I was a kid?), but it lasted as long as any conventional nail polish.
Instructions on the website say to allow a longer drying time and even to use a hair dryer to set the paint, but I didn't even bother and noticed no smearing. I only applied one coat - perhaps two or more coats would have required a lengthy drying time.
Piggy Paint also has a non toxic nail polish remover. It's hypoallergenic, contains no acetone, is biodegradable and also made from natural ingredients.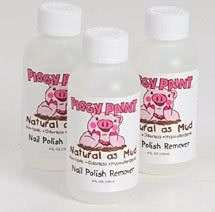 Kudos to Melanie Hurley of Piggy Paint for inventing a safe, non toxic nail polish and nail polish remover!
December 20, 2008 | 1 Comment
Are Parabens Dangerous?
I've long been concerned about the ingredients in my skin care products and lately I keep coming across information about parabens.
I recently read in a book on the topic of cellular health (called Never Be Sick Again), that parabens can actually damage the skin and accelerate aging even more than sunburn!
Now don't get me wrong - I'm certainly concerned about my health, but my vanity might make it more likely that I will be moved to get rid of products that contain parabens!
Ahem.
But for real. It's a little disconcerting to think that the very sunscreen I've been slathering on my pale face since I was a preteen (and probably why most people say I don't look 33) could actually be harmful to my health or my skin.
So I decided to do a little digging to find out if parabens are indeed dangerous for your health and damaging to the skin.
And after all the research, I'm more confused about parabens than before.
But I'll share with you what I found so that you can make a decision for yourself. And I won't leave you hanging about what I've decided to do either.
So first let's talk about what parabens actually are.
Parabens are preservatives.
They're ingredients added to skin care products for their bacteriocidal, fungicidal, etc effects.  Because noone wants their facial moisturizer separating or oozing or moldy, the beauty companies add parabens.
You can recognize them easily when they are called these names: methylparaben, ethylparaben, propylparaben, and butylparaben.
They are also known by some other names that are trickier.
photo credit: drcorneilus
Some parabens occur naturally in plants we eat, like blueberries for instance. They contain methylparaben. If the stuff is so bad, why did God put it in a fruit?
Of course, noone rubs blueberries on their skin. We eat them.
Back to the topic I brought up earlier, about parabens being dangerous for beauty!
In 2004 one researcher, Professor Toshikazu Yoshikawa, who led a team of researchers from the Kyoto Prefectural University of Medicine conducted a study on methylparaben.
Despite the fact that this stuff is considered to be safe, these guys looked for any side effects from normal use. What did they find?
That when your skin cells are coated with methylparaben (which again, is going to be in most skin creams and makeup products) are exposed to sunlight (not burning, beach rays either, just the average amount you would feel on a summer day) had three times the levels of a lipid called peroxide (which accelerates aging in your skin) than the skin without methylparaben.
Professor Yoshikawa's conclusion? That methylparaben, when exposed to UV (ultraviolet) rays, advances the aging process in skin cells.
Um - hello!
Does it seem contradictory that the same product you use for antiaging could be making you older, faster?
Sounds like a great way to sell more products to me.
One study found that parabens were showing up in our urine. Well, that doesn't seem like an awful thing. It means our bodies are detoxing the stuff, right?
Some people are allergic to parabens, and everybody seems to agree that they can cause rashes and other symptoms. A smaller group of people are highly sensitive to them and will get severe symptoms (like breathing difficulties) and rashes that mimic impetigo, eczema and other woes from exposure.
Here's where some confusion comes in. Noone seems to agree whether parabens are absorbed by the skin or not. Some of the experts thing the particles are too large to be absorbed into the skin. Others say if they're found in urine and other body tissues, they must be.
I don't know. Maybe they're coming from the blueberries.
An area of concern to me is the reported estrogenic effect of parabens. I'm someone with several family members (mom's side) who had breast cancer. I'm always thinking about how I can decrease my risk.
One small study showed that breast tumors contained parabens. And even the naysayers agree that parabens have a mild estrogenic effect.
But what we don't know is which came first, the cancer or the parabens? I'm no scientist, but I do know that when analyzing a study, one must prove that two things don't just occur together often, but that one actually causes the other.
To illustrate: You could make the argument that playing pro basketball causes tallness, because all pro basketball players are tall. But is that true? Of course not. What is true is that tall people are drawn to basketball.
Like the abnormally high aluminum levels found in brain tissue of Alzheimer's patients, did the aluminum cause the Alzheimer's, or is there something about the brains of Alzheimer's patients that likes aluminum and can't detox it. Or something?
According to the Breast Cancer Fund website:
"Parabens have been shown to be weak estrogen mimickers, binding to the cellular estrogen receptor (ER). They also increase the expression of genes that are usually regulated by estradiol and cause human breast tumor cells (MCF-7 cells) to grow and proliferate in vitro."
Obviously, more research needs to be done on the potential dangers of parabens.
Given what I said earlier about my family history, this information is reason enough for me to make sure none of my beauty products contain parabens. I went through my stash today and got rid of the ones that did.
Thankfully I had plenty of great, paraben free stuff left to use on my skin and hair!
I have several products from Mambino Organics, all paraben free. My shave cream is by Alba Botanica (their parent company, Avalon Organics, has removed parabens from their products too). Also paraben free. My shampoo is Burt's Bees. My other shampoo (and conditioner) is from ecoStoreUSA. Deodorant? Lafe's Natural. (By the way, the owners of the last two companies will be joining me for an interview so look for them on the podcast soon!)
That takes care of my bathroom.
Unfortunately, parabens can also be found in some other products, like prepared foods such as salad dressings (more motivation to make my own. I usually do make my own salad dressings because I don't like to use soy or canola oils, and olive oil and vinegar are far cheaper!), and even some drugstore items such as topical wound treatments. But I don't use any of those either so I won't worry about that.
My final take on the issue is "When in doubt, leave it out."
If it's just as easy to choose products that don't have a potentially dangerous ingredient, why not go ahead and do just that?
More paraben free products:
December 7, 2008 | Leave a Comment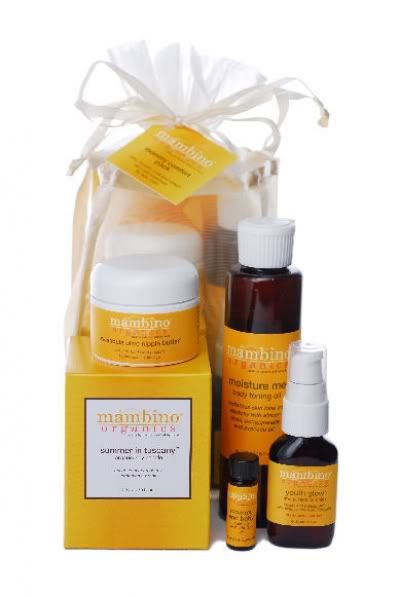 This kit contains some of the nicest organic skin care products I've ever used.
Mambino Organics was invented by a mom named Maki Maodus who suffered with cystic acne as a youngster.
She used natural remedies to heal it and decided to use her knowledge in herbalism and aromatherapy as an aesthetician to help others with their skin problems.
Now she's a facialist to the stars but hasn't forgotten her natural roots. Mambino organics is made from yummy oils and other natural ingredients that are safe for pregnant moms and even babies. There are no chemicals or additives, no parabens, no petrochemicals, no alcohol.
Mambino organics is an award winning line and I can understand why.
Here's a little bit about each of the products I've been using.
The Kissable lips lip balm has become my all time favorite lip balm. It's not heavy or greasy but does the job. It's the only lip balm my 3 year old will tolerate. The others are "too hot", according to her.
The Youth Glow Omega Face Complex feels so luxurious going on my face! I use just a dab on my skin at night after cleansing. It smells HEAVENLY, probably because of the rosa mosqueta and orange oil. I feel all tropical and fruity and love the way it sinks right into my skin without being greasy.
Ditto for the Moisture Me Body Toning Oil, which I rub on my belly after I take a shower. It has shea, pomegranate and avocado oil. I don't have a pregnant belly, but I could use some, um… toning in that area. LOL! It has oils that boost collagen production and strengthens connective tissue (scientific talk for helps get rid of cellulite!).
I can't say much about the Nipple Butter because my nipples are so far beyond needing this product, after almost 11 years of nonstop breastfeeding. I've been using it as a boo-boo cream. At least, on my 7 year old who cannot read the jar. The 10 year old won't stand for it.
The Tippy Toes ultra gentle baby oil I use on my youngest after her bath. This winter her little legs get so dry, so after she towels off, I squirt it onto her legs and massage it in. It sinks right into her skin without being greasy. That's one way you know the oils are natural. If they sit there and get slick, they're made from petrochemicals. You could also use it on baby's scalp for cradle cap.
And finally the Mommy & Baby calming aromatherapy oil is lovely. It's a lavender and roman chamomile blend, both of which are recommended by aromatherapists for teething, fussy, colicky or sleepless babies. Safe to use straight up on baby's skin, or put a few drops on yourself if you have nausea. Also very calming for postpartum stress or insomnia.
You can get several of the products in convenient, smaller sizes as a gift or for travel in the Mambino Organics - Mommy On The Go kit, which comes in a pretty travel pouch.

November 16, 2008 | Leave a Comment
I don't know about you, but when the air starts to turn dry and the central heat goes on, my skin starts to turn dry and ashy. If dry skin or eczema is a chronic problem, try eating more healthy fats to get more Omega 3's into your diet, as well as leafy greens, fish and nuts. Taking fish oil capsules or cod liver oil is also great for your skin and especially if you experience some winter blues, it may help combat the depression.
Soaking in the bath is nice, but during the winter it can be even more drying to overbathe, especially if you aren't adding moisture back into your skin.
I found a wonderful recipe for a milk bath treatment that I am looking forward to trying out.
This will turn your bathtime into a spa experience. Safe even for babies (and Daddies too if he's so inclined!).

photo credit: Unfurled
The ingredients are simple and easy to find in a Whole Foods or other large health-y food store, and this recipe would be an awesome gift for the ladies in your life too.
Buy up some reusable muslin tea bags or small glass jars to store it in, top with a pretty ribbon and small gift card cut out of a recycled greeting card, and you have an inexpensive gift that ANY woman would love.
Cleopatra's Bath Milk
2 cups powdered milk (powdered goat's milk would be specially good)
1 Tablespoon Jojoba or Sweet Almond Oil
2 Tablespoons dried rose petals
1/2 cup ground oatmeal (grind oats finely in your blender)
10 drops lavender essential oil or other favorite oil
Mix all ingredients well and keep in a glass jar in the refrigerator. To use, put as much as you like into your bath under running water.
You can also buy reusable muslin tea bags and place the mixture in these. To use, just drop one in the bath water.
November 6, 2008 | 1 Comment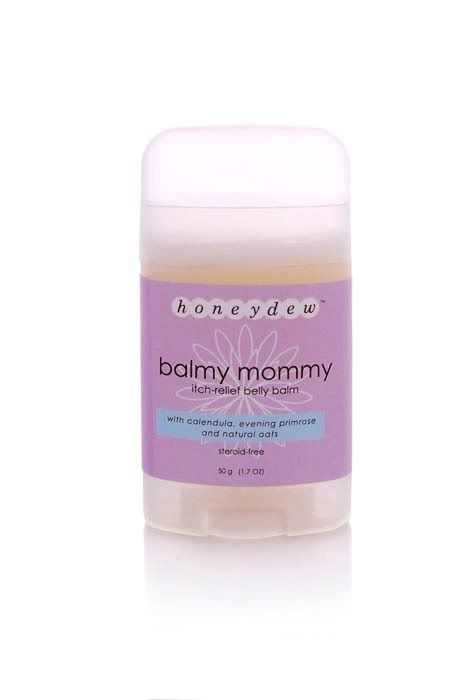 The folks at Honeydew skin care sent me this Balmy Mommy itch relief belly balm for pregnant mommies.
Well, I'm obviously not pregnant, but I've nonetheless found myself using this product every single day since I got it.
It's designed to keep itchy, stretchy areas of the body moisturized (like the pregnant tummy and thighs), so it contains evening primrose oil and cocoa butter. A little lavender so it smells nice and calendula for anti inflammatory properties, and even oats for skin soothing and itch relief. Other ingredients include avocado oil, safflower seed oil, beeswax, rose hips oil, and shea butter.
I like how the balm is in a convenient applicator designed like a deodorant. It's so easy to whip off the cap and stroke it on wherever you need it.
I have found myself reaching for it in the middle of the night several times lately to rub on my youngest daughter's itchy legs. She gets dry skin in the winter anyway, but she's wheat allergic and when she manages to sneak something with wheat when I'm not looking (she's usually pretty good about this but occasionally she will taste something her siblings have left lying around the house), she breaks out into an itchy red rash. This stuff helped me get her back to sleep which meant more rest for me!
Balmy mommy is also recommended for eczema sufferers. I've used it on my dry hands and lips too.
Honeydew has some other original products for moms, like an ointment to help ease C- section scars and one to soothe tired legs. Honeydew products are also free of parabens, petrolatum, synthetic colors, dyes and fragrances. They're available at Nordstrom or at their website.
October 11, 2008 | 137 Comments
This is a review and giveaway by new guest blogger Leslie Quigley. Thanks Leslie for the great offer and for telling us about these awesome skin care products.
*Attention- Giveaway at the end of this post!!!**
Recently, I had the opportunity to review Miessence products through Erin Ely.
Miessence Certified Organic products are certified with the highest international food standards!! All of their products are certified organic and do not include GMO's.
What is a GMO? Otherwise known as a genetically modified organism (GMO) it's a plant, animal or microorganism whose genetic code has been altered (subtracted from, or added to either the same species or a different species) in order to give it characteristics that it does not have naturally.
Knowing these products are not genetically altered is such a great relief especially when you're dealing with skin- which is the largest organ of the human body! When these products arrived at my door I was thrilled. Each of these goods are very unique.
For starters, I used the Skin Care Pack- which included the Balancing Cleanser, Balancing Skin Conditioner and Balancing Moisturizer. The Balancing Cleanser works very well in removing the dirt and makeup. It leaves your skin feeling refreshed. I've used a lot of skin cleanser's and what I really like about it was the aromatherapy (orange peel oil, ylang ylang, calendula & marshmallow) that went straight into my senses after using it. My face really felt clean and I felt like a new gal!
Next up, was the Balancing Skin Conditioner which is so gratifying because it feels so smooth up against your face, throat or decollete' (chest). With 200 applications @ 3 pumps per application you won't be disatisfied. I think out of the three this one I enjoyed most. I like to think of all the great organic vitamins and plant extracts that are nourishing my skin.
After you're face is glowing and you feel like a new woman, there's just one last step! Us woman love facial products and we want to know our skin is going to look as good as it did at 30 when we're 50. So, in order to do so you have to have the right moisturizer that will prevent free radicals and moisture loss (which BTW causes wrinkling!!!).
Upon application, this soft and smooth moisturizer, feels like everything is complete! I tend to have oily skin and a few breakouts and I felt that this Skin Care Pack really packed a great non-toxic punch and kept my breakouts at bay. Plus, I noticed my skin wasn't as oily as it would be.
Using products that do not contain chemicals makes you feel good about yourself. Not only that; you know you're health isn't being jeopardized. There are so many over the counter products that contain ugly chemicals that can alter our systems and yet the FDA still continues to allow them. With Miessence products you don't have that worry.
I also tried their shampoo and conditioner. Both of which worked well. The shampoo, does take a little more than the standard shampoo's, to lather up. Once my hair lathered up, it worked fine. Their Mint Toothpaste works really well leaving your mouth feeling fresh and clean. I must admit, that during my initial brushing…I was thrown off by a bit by the sea salt granules but it was nothing major! The salt and soda combination cleaned up the pearly whites nicely and not to mention freshens your breath.
My two absolute favorites were the Jaffa Lip Balm and the Tahitian Breeze Roll-On Deodorant!! I've always been into chapstick- it goes way back when I was in Jr. High…I'd always have a Bonnie Bell, Dr. Pepper or Grape flavored tube in my backpocket. It was an addiction. I was always rubbing the stuff across my lips.
As I grew up and learned more about natural products, I realized that it was full of toxic crud and I threw them all away and started using natural versions. I have a new collection of natural chapsticks because I still LOVE to keep my lips feeling soft. There's also something about being able to roll your lips back and forth without getting stuck and being dry. I think you all can agree on this one! Just feels right.
When I first put the Jaffa Lip Balm on my lips it was PURE HEAVEN. The smell, the taste (yes, I did lick my lips and so did my son…LOL!) and the feel was absolutely what I look for in a lip balm. I mean c'mon, with ingredients like cocoa butter, avocado oils, sweet orange essential oil, and vanilla… it's lip bliss!! I'm so sad too- because I LOST my tube…it was a tragic day. I'm hoping it'll show up at some point. In any case, if you're like me and love soft, silky lips then you should order some fast.
Okay, so here's a personal secret…shhh!!! I have the sweaty pits syndrome…there I said it! I've heard you can get botox to fix the issue but are you kidding me? HECK NO!!! I don't find that to be a suitable solution, AT ALL.
I've dealt with the problem for a long time and before I was into the natural way I was prescribed a medicine for it. All along I never liked the idea of putting a pure solution of ALUMINUM CHLORIDE under my arms. I finally stopped using it one day and vowed I would cope with natural products-Including putting tissue under my arms to capture the release.
I've tried it all- but Miessence deodorant comes out on top. It works!!! If it works for this "Sweaty Betty" then it will work nicely for those without my problem! It smells great and on my bad days I've had to roll-on twice. No big deal.
It's strong scented upon application with citrus and bergamont notes but calms and keeps you dry once it's been applied. Best of all, it's ORGANIC- and most of the natural deodorants I've tried are not organic just chemical free. Huge plus, that's for sure!!! I've had it a couple months now and it's still half-full! Wow.
Last but certainly not least, I received a sample packet of their moisturizing lotion- great stuff too! Goes along way and provides just the right amount of moisture.
Overall, Miessence is QUALITY at it's finest and I would definitely recommend these products. I mean, really…with ingredients so pure you can eat them- what are you waiting for?
** Now for the fun part!! Your chance to WIN the Jaffa Lip Balm & Tahitian Breeze Roll-On Deodorant!!!
Simply, leave me comment telling me what Miessence product you'd like to try (other than the ones mentioned).
Pls. leave a valid email address with your comment.
Contest ends OCTOBER 16TH, 2008! Winner will be announced on the 17th!
*** The winner of this giveaway is Veronica G.!!! Congrats.

Thanks to all those who entered.
August 6, 2008 | Leave a Comment
I have to admit, this isn't an issue I've thought of very much - how to go green with your hair removal.
I've probably tried every hair removal technique known to (wo)mankind, including waxing and epilators. I'm no stranger to pain. I liked waxing because it made the hair on my legs grow back finer and sparser, even now and I haven't done it in years.
I liked the hot wax formulas, but they do create a lot of waste with all the throwaway packaging and whatnot.
I tweeze my eyebrows a little and for my pits and legs, use a non disposable razor (the heads are disposable) and I take really good care of it so I only have to change out the blade about once every 6 months.
It's pretty obvious that depilatories aren't green since they're made from all manner of nasty chemicals. And I ain't crunchy enough to not remove hair… sorry!
Crunchy Chicken just posted about sustainable hair removal and included a homemade sugaring recipe. It calls for just sugar, lemon juice and water. I've always wanted to try sugaring and am going to give it a shot really soon and let you all know just what it was like!
Ah the joys of blogging.
Sugaring seems really natural and harmless and the sugar itself probably provides some exfoliation action. Another more eco friendly option would be the Preserve razor, made from recycled plastic yogurt containers.
What do you do for hair removal?

photo credit: Jinga escreve historia
July 11, 2008 | 2 Comments
Every once in awhile a reader emails me to ask how to find bargains on natural products. The sometimes frustrating thing about using non toxic skin care and other products is that they're more costly.
True enough.
Good stuff does cost more. But, if you're a savvy shopper and willing to do a little digging, you can find bargains on natural products. Here are some tips on how to do that.
Be alert to clearance bargains. In just the last week I've snagged some great deals on a couple of natural beauty products at my local Publix grocery store. Not exactly a health food co-op, it's the closest grocery store to me (a 4 minute drive) so it's the place where I do the bulk of my shopping. They always have a few shopping carts full of clearance items and I always check it out.

A couple of recent finds: Burt's Bees Pomegranate Shampoo and Conditioner for $3 each (retails around $8 each). I bought several of these! I found Burt's Bees lip gloss for $2 too.

Another find: California Baby Diaper Rash Cream for $3 each (normally retail at around $10). I don't have a baby in diapers, so I plan on giving these away here sometime soon.

I've also snagged some Burt's Bees lotions on clearance at CVS. There are always products being discontinued and such and since a lot of the more natural products don't sell as well at larger drugstore chains, you can find them marked down occasionally.

 

Check company websites. I am frequently able to print off valuable coupons for products I use regularly or want to try, just by visiting the company's website. Sometimes you have to sign up for their newsletter, but that's ok because then you'll get more coupons straight to your inbox.

Ditto for grocery store websites. Again, Publix sends me their print magazine in the mail and today I got about 20 $1 off coupons for natural/organic items, including one for the Clorox GreenWorks line which I really like. So before you buy a product, take a minute to check out the website and see if they're offering any coupons.

 

Visit frugal/coupon/freebie websites. There are quite a few blogs I visit regularly to check out the freebie and coupon postings. Just to name a couple that have give me valuable info recently: Money Saving Mom, BeCentsAble and Freebies4Mom

I have these 3 on my RSS reader and check them daily. They all turn up some great deals, including this one: Walgreens Saturday event with Yes to Carrots coupons and freebies. It just so happens that I will be passing by Walgreens Saturday on my way to another errand so I am absolutely going to drop in and grab a free Yes to Carrots Lip Butter!

It was one of these sites that alerted me to free coupon booklets for organic products that were distributed several weeks ago in grocery stores and health food stores. I'm still using these up, and most of them for $1 off various organic food items.

 

Check here. I post discount codes for online retailers like Amazon and other sites as often as I get wind of them. It seems that about once a month Amazon has a percentage off sale on organic and natural product lines.

Make sure you're signed up for my newsletter because I send them out there too (enter your name and email in the box on the upper right hand corner of the site). I also get discount codes periodically from some of my guests who have ecommerce sites. In a few weeks I'm featuring a company that sells frozen organic baby food (they ship!) and they're offering a freebie, so stay tuned for that.

 

Contests and giveaways. Winning free stuff is cheap. You can sign up for newsletters like Ecobunga to get wind of the best giveaways and contests for natural and organic products all over the web.
So those are a few of my strategies. Of course, some of the best ways to save money are to minimize the number of products you use in the first place and make your own stuff as much as you can.
What are some of the ways you save money on natural/organic skin care and other products?
July 10, 2008 | 8 Comments
The Environmental Working Group just came out with their Sunscreen report, so I decided to stop being a lazy blogger and say something informative about the sunscreen issue.
It seems I'm the last natural/crunchy mamablogger to do so. LOL! But, I have a good reason. You see, I so very rarely wear sunscreen myself. Mostly I just stay out of the sun. Or if I'm going to be in the sun, don't go during the peak hours and don't stay out long enough to burn.
But next month I'm going to visit a friend who lives in Florida, and she is the kind of gal who sports a year round tan due to her beachy lifestyle. She's always outside and she's always exercising and she's surfing and stuff and therefore always tan.
photo credit: Ordered Chaos
I was thinking of donning a huge sombrero, but I'm so not a hat person. So I will be having to purchase some sunscreen soon.
Healthy and Safe and Effective Sunscreen Choices
The bad thing about sunscreens is that many of them can be very toxic and others, not effective. And some are both ineffective AND toxic. Two for one!
Seriously though, some common ingredients found in sunscreens are suspected carcinogens. Really yummy stuff like: triethanolamine, diethanolamine (TEA, DEA), padimate-o, octyl dimethyl PABA, benzophenone, oxybenzone, homosalate, salicylates and parabens. Woo! Say that ten times fast!
Also disturbing is that many commonly used sunscreens contain chemicals that have estrogenic actions. What does that mean? It means that it can interfere with normal sexual development and can cause reproductive problems. Some studies have also shown that chemicals found in sunscreens can be absorbed into the bloodstream.
The really funny part is that all this chemical soup is not even regulated. The FDA has no strict standards for sunscreen. Among other things, a sunscreen can claim to be "broad spectrum" when it's not.
Thankfully there are sunscreens on the market that are safer. Zinc oxide is a mineral that provides complete UVB and UVA protection. It also has anti-inflammatory properties and is considered a safe sunscreen.
The list on Skin Deep has some recommendations, including California Baby SPF 30 + Sunblock Stick - No Fragrance
and another from Badger Balm (click link to read a review) … but another surprising top pick is a CVS brand (so maybe you can put some of those CVS tricks the frugal blogging ladies are always talking about to work).
So what do you use for sunscreen?
June 25, 2008 | Leave a Comment
Just a quick "Bargainic" alert that Amazon.com is offering a lot of The Body Shop
products at discounted prices including Buy One, Get One Half Off.
Through the years there are several Body Shop products I have loved. My all time favorite facial cleanser, ever, was their oatmeal scrub. It was discontinued and I'm still grieving! I also love their essential oil fragrance: Rose and Dewberry being among my favorites.
Plus I've long admired Anita Roddick, the Body Shop's founder, for her commitment to Fair Trade. She was doing Fair Trade long before it became cool.
The specia offers end July 6. You can also get free shipping on all orders of $50 or more.