October 21, 2008 | Leave a Comment
The following is a guest post from life coach Aurelia Williams. She is host of the popular podcast Parenting My Teen.

We all know the adage, "A mother's work is never done." In fact, this could become a modern-day mother's theme song since we all have overbooked schedules and everybody wants something done yesterday.
We teach our children from a young age that it is impolite to say the word, "No," which was a lesson we learned in childhood, too. Now as adults, it is increasingly difficult to say, "No," to anyone for fear of being rude or being seen as unreliable.
Mothers need to learn that saying, "No," as an adult is not rude. Rather, it is a sign of someone who is in control of her life and her schedule. She knows what she is capable of accomplishing and she is aware of her other commitments.
Here are a few ways to gain back control of your life, simply by learning how to say, "No" :
1. Be selective when choosing to volunteer your time. Being involved in your child's school IS important but that does not mean you have to serve on every committee. Instead, choose one or two activities or committees that interest you and schedule that time on your planner.
2. Set limits on after-school activities. Sports teams or dance lessons are fun and help improve social skills but that does not mean your children have to be on a different team each season or take multiple lessons a week. Instead, teach your children how to choose activities that are most important to them and keep their focus on their studies.
3. Set boundaries with your clients. Your clients should not run your life. Instead, you should have a clear, working partnership in which each partner knows what is expected.
If you can still give your clients good customer service during set office hours, then do so. Chances are they would not want you calling during their family time so why should they interrupt during your family time?
4. Be honest about your skills. If you are not qualified to complete a particular project, whether it is a paid or volunteer project, be honest with your client and recommend someone with the right qualifications. Passing the job along to someone else who is qualified will show that you are in control of your schedule, you are honest about your skill level and you value the importance of the project by giving it to someone who can complete it properly.
5. Keep your calendar or planner up to date and use it. Schedule everything on one calendar, even exercise and family time, and keep it near the phone for easy reference when someone calls asking for a favor.
Bad habits are hard to break and saying, "Yes," to too many things can be considered a bad habit. Before committing to anything, spend some quiet time with yourself and decide what things you want to be a part of and how much time you have in your days. Sometimes we must compromise so we can successfully balance our family, work and volunteer lives.
Live happier and healthier with Real Life Solutions by Aurelia Williams
August 8, 2008 | Leave a Comment
I've been thinking a lot about life lately. This summer marks my husband's 40th birthday, and 2 years ago he had a massive brain hemorrhage which he wasn't supposed to survive, let alone recover completely from. As he approaches this Birthday, I've become very introspective. I've been looking back at my life and realizing some of the choices I've made that led me to where I am today…
I've seen the sunrise in Zimbabwe and the sun set in Hong Kong. I've worked as a Missionary, banquet server, retail store manager, artist, actress, teacher, writer, spokesperson, creator and company owner…. I've given birth in South Africa, New Jersey and my basement in Canada. I've slept in homeless shelters, in vehicles, hammocks and restaurant benches, and in 5 star hotels, mansions and guest houses. I've found friends and sincere kindness in places where the people are grateful for sturdy cardboard to build their homes, and found disdain and selfishness in homes where you are expected to change for dinner.
I've struggled 7 long years now with an illness that sometimes knocks me clear off my feet and leaves me, an ex-gymnast/dancer completely unable to walk or function for days on end, and I've also come to understand more about myself and my support network than I ever would have without it.
I have lived home to home, owning only what I could carry and understanding what it meant to need-to wish for-to long, and somehow without doing any of the things we are TOLD will create such provision, been graciously provided for. I have served and been humbled by those less fortunate, have seen my work touch and change lives, and have set out on journeys I have yet to see to their fulfillment.
I have be woken by the smell of jasmine in the wind, and magnolias outside my window. By the sound of children and the sound of gunfire. By a kiss from someone I love, and the perfect sound of peaceful solitary silence.
And along the way, I have shared many of these life lessons with women who are striving, seeking and longing. It has been a long time coming, but I am finally doing what I am here to do. Inspire, share, and create opportunities for women.
If you are a seeker-an artist-a co-creator feeling a little stuck, are a WAHM in need of guidance in your home based work, or if you are just wanting to add to the list of experiences you've had on your journey through life, please feel free to visit my not-yet-launched site and imagine what we could do together…. Where the Wild Ones Grow
Where will you "be" on your next Birthday?
I look forward to sharing in part of your journey!
Marcie
April 8, 2008 | 2 Comments
Diana Walker of The Cravings Coach has decided to launch a podcast!
She will be sharing tips and advice to help moms live healthier lives and overcome their cravings for salt, sugar, carbs, caffeine… you name it.
Go have a listen and check out her Cravings Secrets ebook too while you're at it.
April 2, 2008 | 1 Comment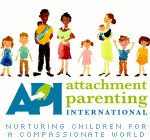 Last year on the show, I was honored to interview Lysa Parker, cofounder of Attachment Parenting International.
Attachment parenting was a word I heard a Mom say over 9 years ago at a meeting for parents who had taken Bradley Method childbirth classes. I thought it sounded so strange, but then I realized it embodied what I believed and what I had been doing with my young baby: cosleeping, nursing on cue, responding to baby's needs, wearing him in a soft cloth carrier, etc. 
API has some exciting stuff going on right now to help parents learn and keep the principles of attachment parenting and I'm happy to help them spread the word.
What Is Attachment Parenting International?

API is a non-profit organization that promotes parenting practices that create strong, healthy emotional bonds between children and their parents. Some of the changes they would like to announce include:
A newly redesigned web site and new logo at Attachment Parenting.org;
Attachment parenting worldwide support forums;
Parent Education Program - a comprehensive series of classes for every stage and age of child development from infancy through adulthood;
A new book based on API's Eight Principles of Attachment Parenting by API co-founders Lysa Parker and Barbara Nicholson which is expected to be available this summer;
A series of podcasts, webinars, chats, and forums with API Advisory Board members and other supporters of AP. Future events are scheduled with Dr. Bob Sears, Dr. James McKenna, and Kathleen Kendall Tacket. Check out the events page for more information.
These are just a few of many exciting things going on at API. I hope you'll stop by and check it out for yourself.
March 28, 2008 | Leave a Comment
Do you ever read the reviews on the Natural Mom Product Reviews site?
We've gotten some really great reviews lately. Thanks to those of you who submitted well written reviews! (And the Paypal cash was nice, no?)
It helps to get someone else's opinion before you spend your hard earned money on stuff. Go read some of these:
If you're a mom in business you can send your products to me and I will review them personally. Contact me at carrie at naturalmomstalkradio dot com if you're interested.
February 19, 2008 | Leave a Comment
Tuesday Tidbits is where I publish little bits of news and info that doesn't seem to fit anywhere else. If you want to play along, grab the code for the graphic (I host it and all cause I'm cool like that) on the right sidebar.
1- Barbara of Mom2Mom Lounge interviewed me asking questions about working from home and enjoying passive income while raising your kidlets. There's some valuable advice in there so go check it out.
2- Have you talked to your kids about the choking game?
3- Have you seen those Proctor and Gamble ads encouraging you to buy their tampons so that African girls can get free tampons? Don't do it. Crunchy chicken has a MUCH better idea. Tampons, waste incinerators and voodoo=bad. Washable absorbent cloth pads=good. Ok?
She'll be featured on the show in a few weeks so stay tuned, but in the meantime see what awesome nonprofitness she is doing for these girls who often miss school during their monthlies. Rock on sista.
4- The U.S. has announced the largest beef recall in history. This is so sad, considering the meat was earmarked for use in public schools. I'm thankful that sitting in my freezer are organic grass fed beef, pork and chicken from a small Tennessee farm who does monthly deliveries to Atlanta. I feel much safer knowing the people who handle my meat.
Ahem. Seriously folks, organic meat is worth the added expense. If you haven't found a source of safe meat yet, try EatWild or LocalHarvest.
February 17, 2008 | 2 Comments
Have you heard about Scratchback? It's kind of like a fancy tip jar, but with a nice twist for the tipper: you get a link from my site to yours.
Scroll down and look at the right sidebar here, under Subscribe to Natural Moms News.
See the links? Click on the Show some love, tip me link. You can get a link from this blog for only (right now) $3. That is VERY cheap. Considering I get $50 - $125 for advertisers on my podcast.
So if you're on a budget and want some extra traffic to your blog or site, leave me a tip!
February 14, 2008 | Leave a Comment
Today's the day for the Blogging For Chocolate Contest at Moms Talk Radio. It's going to be a busy day for me ladies. So hold on to your feed reader, here goes!
* Show that inspired this post: Wahm Talk Radio Coffee with Kelly: "Examining and Improving Your Business in 2008"
* 100 words: This episode was one of my favorite recent shows. Coffee with Kelly's are always so enjoyable. Kelly is one of my favorite internet marketing coaches, for a couple of reasons:
She tells it like it is! I always know that I can trust Kelly to tell it straight up, even if that means she admits to changing her mind from time to time about certain things. I've seen her change her position on an issue a time or two, and she's not afraid to let you know. That really builds trust. Kelly has a lot of integrity and I respect that. She's kind, but she's no shrinking violet.
Kelly is inspiring but not intimidating. It was Kelly that inspired me to launch Natural Moms Talk Radio! I honestly doubt that the idea would have ever come to me to start an internet talk radio show, but Kelly must have seen something in me that I didn't recognize in myself, and I'm glad she did. As far as not being intimidating, I find Kelly easy to talk to, and that's why I've hired her on a couple of occasions for some business coaching.
Anyway, back to this particular show. I decided at the end of 2007 that I was going to do the exact same thing Kelly talked about on that episode: spend time improving all of my online projects (products, content websites, ecourses and the podcast) rather than start anything new.
I got rid of a ton of stuff in '07 in my business. I sold websites, gave up a couple of projects that weren't working, got clear on my focus and shaved off everything else.
If you're a work at home Mom, are you thinking about how you can improve what you've already got going on? 
The lesson may take awhile to learn, but I've now gotten to the point where I can easily tell myself NO to new information products, ideas, joint ventures, domains, and other shiny objects that may not serve to truly further my goals. I don't want to get distracted. Focus pays off both in peace of mind AND in bottom line income.
If you need some help in this area, check out Kelly's The Power of a Focused Business.
* Link to Moms Talk Radio
January 22, 2008 | 1 Comment
This week I got a couple of questions from subscribers and thought I would post them here to see if you smart ladies had any advice.
The first is from a subscriber to my newsletter about limiting TV. She asks:
Dear Carrie,

We are doing well with our now much limited use of TV (I would say at the most 3hrs a week total). 

However, I am really struggling with things to do with my almost three year old son.  My girls are doing well.  They are 8 and 6 and they are being more creative, pulling out all kinds of toys rarely played with, going outside more and generally living life more. 

But my son is the hard one.  Also, I find I'm not getting any housework done because I'm having to entertain my kids so much.  Our house is staying a wreck most of the time and I'm struggling with this aspect.  Help!!!!!!!!!!  Do you have any solutions?

Thanks,
Mom R
 
I totally understand this problem! It's definitely an issue with kids around 3 and 4. One thing I've done that helps is to keep a large box (at their level so they can get it themselves) in the kitchen full of art materials: paper, colored pencils, crayons, stickers, watercolors, coloring books, paper dolls, etc. My 4 year old gravitates to it several times a day as does the 2 year old.
Some other activities that he could do by himself that come to mind are: playing with wooden blocks, train sets or Lego type toys, doing easy chores (he could help you work, I find that mine loved to help at that age but would also lose interest quickly, giving me a few minutes to finish up), cutting old magazines with safety scissors (my 2 year old loves to look through old parenting magazines and pick out all the babies), easy puzzles… I'm sure you could come up with a list if you brainstorm, and suggest something for him to do when he's bored.
I can't (nor would I want to, even if I didn't have other responsibilities) spend all day playing with my kids. I think it's important for kids to learn to entertain themselves for a part of the day even when they're younger.
So I encourage mine to get involved in activities that are age appropriate. Sometimes it takes a little nudging. I kick them out encourage mine to go outside a couple of times a day if it's pleasant, and once if it isn't pleasant. LOL! That may or may not be possible for you depending on your living situation. It's safe for me to turn mine loose outside where I live.
Can you encourage the older kids to involve the little one in their play? I know sometimes that's hard, but I'm not above paying my oldest son .50 to swing the baby outside so I can get some pressing task accomplished.
Also, it will get easier. The youngest will adjust to not being entertained so much by you or some external stimuli.
The second email is from a Mom who wants to find a safer crib for her baby. She writes:
Hi Carrie,

Can you tell me where I would find a solid wood crib that is unfinished, or is finished using natural products? It seems there are lots of companies that claim to be non-toxic, but the U.S. regulations for this aren't great to begin with so I don't really trust it.

Thanks!
Mama B
I didn't have much advice for her because I never had a crib, my babies coslept. But I'm quite sure there are companies that produce baby furniture made from sustainable goods and that are non toxic. I suggested she look for companies online and call their 800 number to do some more detective work.
Do you know of a specific resource for her?
Thanks for the input Moms!
November 8, 2007 | 2 Comments
As you probably know I'm a co-host of the Mom's Money podcast. This week, I was the start of the show. I shared with Kelly that I paid off my credit cards, so for the first time in about 4 years I'm unsecured debt free!
I'm going to write a more lengthy blog post later, but for now if you haven't listened yet, please go listen.