April 2, 2008 | 1 Comment
If you're new here, you may want to subscribe to my RSS feed. Thanks for visiting!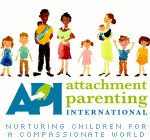 Last year on the show, I was honored to interview Lysa Parker, cofounder of Attachment Parenting International.
Attachment parenting was a word I heard a Mom say over 9 years ago at a meeting for parents who had taken Bradley Method childbirth classes. I thought it sounded so strange, but then I realized it embodied what I believed and what I had been doing with my young baby: cosleeping, nursing on cue, responding to baby's needs, wearing him in a soft cloth carrier, etc. 
API has some exciting stuff going on right now to help parents learn and keep the principles of attachment parenting and I'm happy to help them spread the word.
What Is Attachment Parenting International?

API is a non-profit organization that promotes parenting practices that create strong, healthy emotional bonds between children and their parents. Some of the changes they would like to announce include:
A newly redesigned web site and new logo at Attachment Parenting.org;
Attachment parenting worldwide support forums;
Parent Education Program - a comprehensive series of classes for every stage and age of child development from infancy through adulthood;
A new book based on API's Eight Principles of Attachment Parenting by API co-founders Lysa Parker and Barbara Nicholson which is expected to be available this summer;
A series of podcasts, webinars, chats, and forums with API Advisory Board members and other supporters of AP. Future events are scheduled with Dr. Bob Sears, Dr. James McKenna, and Kathleen Kendall Tacket. Check out the events page for more information.
These are just a few of many exciting things going on at API. I hope you'll stop by and check it out for yourself.
November 30, 2007 | 7 Comments
Carrie: You're back with Carrie at Natural Moms Talk Radio and I'm joined this week by Marni Matyus from The Sling Station and Peppermint.com.  Good morning, Marni. 
Marni: Good morning! 
Carrie: How are you today? 
Marni: I'm great!  How are you? 
Carrie: Very good.  I think it's finally cleared up here.  We've had a couple days of sort of pseudo rain, which is kind of good, but we need so much more.  We're having a bad drought right now.  It's nice to see the sun, but I wish it would just really drench and give us some rain.  Well, we're going to talk about kangaroo care.  Now, you're obviously a baby-wearing expert with your website and your business.  First of all, for those who aren't familiar with you and what you offer on your website, tell us about The Sling Station and Peppermint.com. 
Marni: Okay.  With both websites, we offer a wide variety of baby carriers.  We represent many of the major manufacturers and in addition to all the different types of carriers, we also have people on our staff who are baby sling experts, who have used the carriers with their own children and they are available by phone and by live chat or email to help moms design which carrier is best for their needs and also to use the carriers if they're having trouble using their carrier after they received it. 
Carrie: And I'm sure that's an issue because I know I've heard that from many moms, "Oh, my baby doesn't like it," or "I can't get it to work." 
Marni: Right, right, and that's what we really try, to provide the service to those moms because when you first get it out of the package, it can be a little intimidating, but if you'll just step through it and give it a chance and look at our videos on our website and we also have some printable instructions in addition to what's provided by the manufacturers.  Most people, once they give it a try or give us a call and we can give you help based on your baby's age and your particular situation what carrying position might be best for you or some tips to help you use your carrier. 
Carrie: Oh, that's great.  Okay, so on the topic of kangaroo care and I'm sure most of our listeners are familiar with that, but if you want to just explain briefly what kangaroo care refers to. 
Marni: Absolutely.  Kangaroo care really is skin to skin. What happened is in the 1970s in Columbia, they didn't have the money to buy incubators and they were having a lot of premature babies that were dying. So they tried using the mother as an incubator, so when these babies were born, they literally put the baby on the mother's chest, skin to skin, the baby's only wearing a diaper and actually inside the mother's gown or shirt and the mothers wore the babies 7 x 24 and they actually slept in a semi-upright position with the babies tied to their chest. 
They found that those babies did better than the babies that were in the incubator and the hospital on the top of the hill, they did have money for incubators.  Surprisingly, first of all, these babies were surviving and then as we did more and more research and in other countries, kangaroo care is really implemented much the same as it was in Columbia back when it first started where the babies are held for most of the day on the mother's chest. 
So, what we found out is their heart rates are more stable, their breathing is more stable, their cortisol levels and their stress hormone are at the 10x lower than a baby who is in an Isolette or an incubator.  The babies that are held skin to skin and held close to their mother were getting out of the hospital faster, they were nursing better, they were gaining weight better, and they have actually a higher survival rate. 
Carrie: Wow.  You know, I had read about the benefits of kangaroo care before, but listening to you tell that story, it occurred to me I wasn't aware of the fact that they actually encourage the mothers to have the baby sleep on their chest. It made me think that kind of decries the whole "co-sleeping is unsafe" thing and I wonder how many women have done this.  Is it a large enough group of women that we could use those statistics to disprove some of the co-sleeping detractors? 
Marni: You know, I'm really not sure.  I do know that Niles Bergman who provided most of the information that I know of, they're very specific on the way that the babies are tied onto the mother when they are sleeping, especially that they want to make sure particularly that the baby's airway is protected.  That is a big concern to them, especially with premature babies. 
Carrie: That would be kind of an interesting thing to investigate just as a side point. 
Marni: Absolutely. 
Carrie: Well, you mentioned some of the benefits to the baby, but what about the moms and dads too?  Dads participate in kangaroo care as well, don't they? 
Marni: Absolutely.  I mean it's often focused on the mother because she's obviously there.  She's nursing the baby in a lot of cases, but when the mother cannot hold the baby or kangaroo the baby, obviously the dad is the natural choice.  For the mother particularly — for the mother, for me, it was getting my life back when I'm dealing with a newborn — when I had my first baby it was difficult to even get a bite to eat and with the baby held tight to my body, I could now fix myself a meal, I could actually eat using two hands, walk around, things that were difficult with a newborn that wanted to be held constantly. 
Now, with kangaroo care, we've actually found out that some mothers have a lower incidence of postpartum depression.  Bonding is easier and they are able to get to know their baby's needs faster to understand what the baby is needing and obviously respond to their cries faster and then obviously just to be able to do some things that they might not be able to do otherwise. 
Carrie: Yeah.  I know I always felt sorry for moms with preemies and one of the biggest reasons why is because when you see these pictures or footage of babies in these little incubators and the mommies cannot touch them and hold them, it always made me feel so sad for the mom because it's just an instinct to want to just be close to that infant and protect them and everything and I thought, "Oh, that's got to have some kind of emotional repercussions."  So, that makes total sense to me that it would impact postpartum depression rate. 
Marni: Absolutely.  I think we have a physiological need to be with our babies because they have a need to be with us.  It's a very natural phenomenon and it's so much easier for the moms even in hospital setting if they can use a carrier to kangaroo their babies, they're more likely to hold them longer to give them more skin to skin time, which the babies really need if they can sit there and read a book or if they can walk around the hospital a little bit.  Even if the babies have to be connected to breathing machines or IVs, the mom still has a little bit more freedom with physically having to hold the baby with her arm, so that babies tend to get more mom time, more skin to skin time.  Kangaroo care is not just for premature babies.  They're also for newborns.  They experience the same benefits for newborn babies, which also have a need to be close to their mother.  They actually have the same benefits to a full-term baby as to a premature baby. 
Carrie: Right.  Well, back to that thing that we were talking about earlier about moms who say, "Oh, well, you know, I tried that (babywearing).  My baby just screamed.  They didn't like the sling.  They didn't like the carrier…" What suggestions do you have? 
Marni: First of all, starting early.  A lot of times, if you carry a baby from their very early weeks, they don't know any different.  It's very natural to them.  That's a very natural place for the baby to be, so obviously it's what they are used to. 
A lot of babies also are particular about the positioning.  So, with the newborn, the best position we found is upright on the mother's chest.  So, with the baby's head above in between the breasts you want to hold the baby high so that you can reach down to kiss the top of their head.  A lot of babies don't like to have their heads covered and a lot of babies don't like to be in a reclining position, especially if you have a baby who's colicky or reflux, it may hurt them to be in a reclining position.  They do much better sitting upright and you want the baby to be facing you, so they're leaning against the mother.  That way, they're not having to support their own weight or their own spine. 
You want to fully support them so they're leaning against you and then usually there's fabric behind the baby's back.  Now, when you have a little bit older baby and you're just getting into baby wearing, you may need to show them that the sling is a nice place to be.  So, obviously, put them in a carrier and, again, for most babies, we still recommend almost at any age when you're just starting to wear your baby upright, leaning against the mother, facing the mom.  Put the baby in the carrier, make sure they're comfortable and walk around. 
So, the first thing you should do when you get the baby in the sling is take a walk, if the weather is nice preferably outside.  I found that just walking around and patting the baby, often they'll calm down because for an older child that's not used to being in a sling, it might be just something different, something they're not used to.  So, they may be a little apprehensive.  If you can calm them down, they'll soon learn that that's exactly where they want to be is in mom's arms.  So, the sling is a way for them to get what they want basically. 
Obviously, the other thing to think about is if the baby just is not happy in the sling, put it away and try it another day.  The other thing you can do to make the baby more comfortable is to make sure you're comfortable with the sling before you put the baby in.  So, practice with a doll or even with a sack of rice and make sure you understand how the sling works before you actually try it with your baby.  That way, they're not picking up on your apprehension or any insecurities you may have with the sling because they do pick up on our emotions. 
Carrie: That's right.  You know, my oldest was a very high need baby and I picked up a sling when he was about 5 weeks old at a consignment shop and it was the worst sling for my body that I could have chosen.  That was one thing.  It was the wrong kind of sling for me because he was tiny and I'm kind of petite and I got a NoJo at a consignment shop.  I didn't know that there was a difference among all the slings and it just so happened that the NoJo is about the worst possible sling for my frame.  I needed a Maya or something that I could adjust the tail independently to get him nice and tight, so that was one thing.  Secondly, for me, what worked with him was I had to put him in it and immediately start moving, almost be bouncing while I'm adjusting it and take off walking. 
Marni: Absolutely. 
Carrie: And that really helped us, but it was a lifesaver for me.  I always say that I was blessed with a high need child first because everything after that seems easier.  It was trial by fire. 
Marni: That's absolutely correct. 
Carrie: Oh boy.  The sack of rice thing, I've not heard that.  I've heard of using a Cabbage Patch doll, but I think a sack of rice is better because it's heavier and fluffier. 
Marni: Absolutely and if you're afraid of your baby falling out of a sling, when you put a sack of rice in there, it's slippery and it's heavy and it has no arms and legs and if you can keep the rice in there, it probably is not going to be an issue to keep your baby in a sling or a wrap. 
Carrie: Right, yeah.  The thing about going outside is great.  Sometimes I would have to do that too.  I can immediately walk outside because most babies tend to calm down the moment they get outside in the fresh air.  Yeah, that was a great tip too. 
Marni: Absolutely. 
Carrie: Well, you actually had an opportunity to educate some folks in Dallas, medical staff, about kangaroo care.  Tell us about that. 
Marni: I did and it was a fantastic opportunity actually and we had nurses, physical therapists, midwifes, like patient consultants and a few doctors that actually came to our workshop.  Obviously, most of them know about kangaroo care in general because they have lots of workshops.  They understand the value of kangaroo care for the baby, so we were able to show them how to use a carrier to implement kangaroo in there in a hospital setting and they are working with not only premature babies, but also special needs children. 
So, in the child life centers, they're dealing with children that may have cancer, may have breathing difficulties, may have brain damage or brain trauma, and they found that the carriers are very calming to the babies that when they're held, when they're carried they're much happier.  It's sometimes easier to work with them with certain physical therapy activities or when they undergoing medical treatment.  We have had a great response.  The staff was very encouraged about what we had to show them and made it easier for them and easier for some of the parents and they are able to now go and teach the parents how to use baby carriers and to encourage them to do more kangaroo care with their babies. 
Carrie: That's great!  You know, I've never thought about that, babies with special needs and how they could also benefit from baby wearing.  That's great.  Well, what kind of slings or carriers do you recommend for that? 
Marni: Well, I showed them all of the carriers and my suggestion is typically a wrap and without fail, that's always their first choice to use once they see the benefits and learn how to use it.  Some people are a little bit intimidated by a wrap at first, but really we find that the easiest carrier for moms to get the babies in comfortably and securely is also the most versatile when dealing with babies with special needs because you can position the baby exactly where you need them and then tighten the wrap around them.  You can also vary the carrying positions depending on the baby's needs. 
Carrie: Well, that's really interesting.  That's good to know.  Well, Marni, thank you so much for coming on the show and sharing that with us.  I know I've seen your banners from Peppermint.com, especially all over the Internet, especially the blogosphere, and you've got just a wonderful variety and great articles and stuff on your site, so I encourage our listeners to check you out and see what you have to offer.  Thank you so much for sharing this information with us today. 
Marni: Thank you for having me.
November 6, 2007 | 7 Comments
Alyssa of LifeFromMyLaptop (which, by the way Alyssa is one of my favorite domain picks, ever) invited me to do a little cross blog conversing with her. She asked me this question on her blog to kick things off:
My first question for you is about natural parenting. Carrie is the host of Natural Moms Talk Radio so I know she practices this, but frankly I have never really understood all the ins and outs so I know that Carrie can clear this up.
What is it like to be a "natural mom"?
When I first read this, I thought you were asking what a natural mom IS… which is also a great question! So I'll answer that first. There probably isn't any real definition of that term, and it means different things to different people, but for me, being a natural mom means tuning in to your (and I believe they are God-given) instincts first and when you're in doubt.
It doesn't mean I'm the expert of everything or that I don't look for expert opinions. It does mean that I'm the one who loves my children the most and it's also my responsibility to care for them, and since I also spend the most time with them, I'm the expert of them.
One thing that I used to tell moms all the time when I was a breastfeeding counselor is to trust your instincts - you are the expert of your baby. Anthropologists will tell you that "breastfeeding difficulties" are a purely Western, modern phenomenon. We think breastfeeding will be hard and so it is, but it's not true for native women who do what comes naturally and don't have anyone telling them they don't know what they're doing!
Women doubt themselves so much, and it's true we're not animals that are guided solely by instinct… but I believe women have a special sixth sense that alerts them to danger, and we should use that to protect our little ones. Have you ever read The Gift of Fear? It has nothing to do with parenting, but it illustrates this instinct that mothers have beautifully. I think that gift should be used. I believe that mothers go against that inner voice and they and their children sometimes suffer as a result.
So there are some behaviors that come out of that philosophy. As an example, cosleeping. While the experts debate whether it's "safe" to do so, my strong feelings, and the behavior of my child, tell me it's a good choice for us. I don't need someone else's opinion to make that decision.
You know at one time in this country and all over the world, women were told that formula feeding was "better", "cleaner", more "scientific", more "advanced", the thing that wealthy women did (and in some countries, the way WHITE woman did things which was obviously insulting to mothers) and the way of the future.
Obviously those experts were wrong! One of the reasons I don't go with the status quo automatically but question the way things are done is because I have seen how that "sheeple" mentality so often turns out.
Being a natural parent also means doing things in a natural way as much as you can. When I was pregnant with my oldest, my Mom talked to me about how much she enjoyed using cloth diapers with me. I thought it would be a great way to save money, so I started looking around at diaper services and cloth diaper systems. People laughed at me, but 4 kids later I still love cloth diapers.
A lot of natural parents reject circumcision because it's a painful, unnecessary (for health anyway) surgery and vaccination because they're unconvinced that the shots are effective or safe, and they prefer to build their child's immune system naturally. Most natural parents reject spanking. They often prefer a gentler discipline style. Many of them are homeschooling. Most of them are interested in nutrition.
But we're not all the same. I know moms who are far more crunchy than me who vaccinated their kids - I didn't. I know other moms who had their babies at home but who wouldn't use a cloth diaper if they were paid to. And I know moms who are NOT natural in any way but who I admire for some of their mothering skills.
You know as I type this I realize that natural parents do what they do for slightly different reasons. Some are motivated by environmental concerns, some by politics, some by findings in the field of psychology and some by philosophy.
For me, it's largely from my belief that when God made moms and babies, he didn't make a mistake.
I trust that a woman's body is capable of birth and of feeding her baby. I trust that a baby's cry is supposed to be uncomfortable so it will motivate the adults listening to do something instead of it being ignored. I believe that people are more important than things and that things can't replace human contact. So that belief is reflected in my parenting choices.
I'm sure that after I write this I'll think of a hundred more things to say. I hope that makes sense for now
Ack! Sorry Alyssa, I forgot to post your question. I was trying to get this published while getting the kids ready to walk out the door. So here goes:
You've recently launched a ghostwriting business. Have you always enjoyed writing and what sparked that interest?
September 18, 2007 | 5 Comments
I came across a news story about an infant who died while sleeping with his parents here. Honestly I don't know if anyone will ever be able to prove scientifically that co-sleeping is safe because there are so many variables.
What kind of bedding the parents use in their bed
Whether the parents (and whether they admit to) are using alcohol or drugs, including sleep meds and cigarettes
Whether the parents are obese or have circulation problems that cause numbness in their extremeties
Whether the baby is healthy and the actual cause of death (if the baby was recently vaccinated his death could be related, babies often go into a deep abnormal sleep after a shot)
Etc
There are a couple of things about this article that stuck out. For one, the example given to supposedly prove the "co-sleeping is dangerous" argument goes like this:
In February 2003, Tucsonan Shawn Dallas Ramon and his girlfriend, Stephanie Molina, were charged with manslaughter and child abuse after their 7-month-old son, Shawn Dallas Ramon Jr., died in their bed. An autopsy report said the infant died of "probable suffocation due to overlying by adults while in bed." Though the Pima County medical examiner ruled the death accidental, the couple were criminally charged. They admitted to being intoxicated the night their son died. Both later pleaded guilty to endangerment and in 2005 were sentenced to probation.
The article explains that the Mom drank a 6 pack of beer the night her son died. Hello! Having drunk parents increases the chance of a baby dying by ANY cause. This is not going to prove that co-sleeping is dangerous. Having alcoholics for parents is what's dangerous.
 "We live in a very complex society. We don't sleep on the floor of a hut where there are no soft pillows," said Dr. Marilyn Heins, a Tucson pediatrician.
Point taken. But let's not throw the baby out with the bed. Get rid of the extra pillows and comforters and sleep on a firm mattress. Better yet, use a natural mattress that won't offgas formaldyhyde and you and your baby will sleep better.
As Linda Palmer puts it in this article on APConnect.org,"The risk of death to babies who sleep with a safe parent is actually far smaller than that of babies who sleep in a crib in another room," Palmer said. "In fact, for infants over 2 to 3 months of age, the studies show that letting infants sleep in the same bed as their parents protects them from SIDS more effectively than simply having them sleep in the same room." 
Palmer decries the AAP's conclusion that babies are at risk of SIDS simply by virtue of sharing a bed with a parent. "Infants are at risk of suffocation in adult beds, just as they are in cribs — this is a bedding issue, not a sleep-sharing issue,"The article goes on to point out that the studies that seem to point out risks of co-sleeping are flawed because they include all sorts of co-sleeping arrangements, including sleeping with a baby on a couch. It also includes smoking and drinking parents.   
The co-sleeping is unsafe just doesn't seem logical in my opinion. Many people sleep with their pets. Do they accidentally smother their dogs? How come Veterinarians haven't issued a policy statement condemning sleeping with your pet? Many people sleep with their mates. Do they accidentally sleep on top of a thigh (which would be roughly the circumference of a newborn baby)? No. Why not? Because we compensate for the other beings in our bed unconsciously.
I wonder if anyone has done a study showing how many babies die in fires each year because their parents couldn't get to them in time? And the fact that babies and toddlers are more likely to be sexually assaulted while sleeping away from their mothers is certainly worth investigating. Some co-sleeping detractors say the opposite, but I love what Dr. Robert Mendehlsohn has to say about it: The late Robert Mendelssohn — well-known pediatrician and author of several books — noted that when confronted by mental health specialists who feared sexualization of the family bed, he sarcastically agreed that "psychiatrists should not take their children to bed with them, but it is quite alright for everyone else!"
I also have a problem with the supreme arrogance of the AAP in thinking they can tell people of various cultures and ethnicities that their age old practices are wrong. Co-sleeping is more common in Black and Latino communities, and it is also a common practice in China, Japan and Hong Kong, and in many other places around the world and has been since the beginning of time.
Another point of note: One of the most well known studies on co-sleeping was funded by none other than the Consumer Products Safety Commission. When babies sleep with their parents, nobody makes any money. Anyone smell a conflict of interest here?  
February 19, 2007 | 1 Comment
I've never had a real set in stone routine for bedtime for my babies, but when they get older, I really see the benefits. Interestingly, a study by the Sleep Center at Children's Hospital of Philadelphia and Johnson's Baby found that when 7 to 18 month olds follow a 30 minute wind down routine at night, they fall asleep 37% faster, sleep 23% longer and spend less time awake at night.
I guess it's certainly worth it to develop a routine for your baby's bedtime