September 8, 2008 | Leave a Comment
I've been a bad girl. A very, very bad girl.
Well, not so much.
I did go WAY over my $10 non essentials budget.
But I also earned far more than I spent selling off some clutter on eBay.
And I'm way behind on posting my confessions. So I'm doing two weeks at once now.
Some of the non essentials I bought actually WERE essentials. They just could've waited until next month.
I hit the thrift store for another .25 day. Got 3 bags full of like new kid's clothes, books, a bag for myself, a few nice T shirts for me (including one that was 100% organic cotton - for a .25!), a pair of Converse high tops for the oldest son.
I also caved and bought that Blur Best of Blur CD. For .99 plus 2.49 shipping, I couldn't pass it up! And it's bringing me much pleasure. I haven't stopped listening to it.
One of my expenditures was the cost of postage to mail books to other PaperBackSwap members. Around $9 so far. But since books are such an obsession, I'm actually saving money by doing this. Because I've gotten several free books this month too.
i also spend money on a couple of greeting cards. One for my nephew who recently had a huge personal success that I wanted to congratulate him on, and another for a friend who needed a pick-me-up. Combined total of around $5 but money very well spent.
Sure, I could've written a letter or made my own card, but I'm not crafty. And both of the cards made me laugh out loud in the store when I read them, so I'm sure they got a laugh from their recipients too.
So - bad news is I went way over my $10 budget. Good news is - I'm still under budget because I made around $90 on eBay, after fees.
What the month has taught me is that $10 a week for nonessentials really isn't realistic for me. It may be do able for a week or two, but not for an entire month.
I also was able to recognize what my weak spots are. Books. That's a big one. But I'm learning how to get those for almost free. Music could be, but I've been a real avid user of Last.fm and Pandora.com lately, so that scratches that itch.
Another trap is shopping with the kids. If I really want to save money, I need to shop when they're not with me.
Speaking of kids, recreation is an essential expenditure. (For me as well as them.) It has to be a line item in the budget. We went out to Moe's for a nice meal, ate outside - it was a gorgeous day. Then we spent the entire afternoon playing in the park. Frisbee, soccer, swinging - it was great. That part was free, and there are a lot of fun free things to do, but still… the meal out cost money. It was entirely worth it though.
Recap of No Spend Month:
August 30, 2008 | Leave a Comment
Each Saturday I'll post a free salad recipe from my new salad cookbook. It ha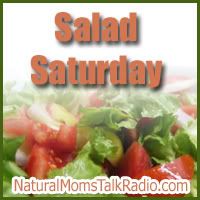 s over 365 recipes, so you can either buy it now or just hang around here for the next 6 years. LOL!
CHICKEN AND BLACK BEAN SALAD
30 ounces Black beans; drain — rinse
3 cups Chicken; cooked — cubed
6 Green onions — sliced
1 Sweet red pepper — chop
1 Sweet yellow pepper — chop
2 Tomatoes — coarse chop
1/4 cup Coriander; chop – fresh
—–DRESSING—–
1 Jalapeno pepper — minced
1 teaspoon Grated lime rind
1/4 cup Lime juice
10 milliliters Garlic — minced
1/4 teaspoon Salt
1/4 teaspoon Pepper
1/4 cup Vegetable oil
Use canned black beans (15oz (425mL) per can). In large bowl, gently stir together black beans, chicken, onions, red and yellow peppers and tomatoes.
Dressing: in small bowl, whisk together jalapeno pepper, lime rind and juice, garlic, salt and pepper; gradually whisk in oil. Pour over salad; add coriander and toss gently.
August 23, 2008 | Leave a Comment
Each Saturday I'll post a free salad recipe from my new salad cookbook. It ha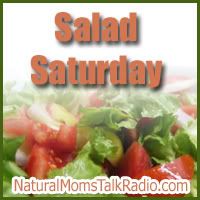 s over 365 recipes, so you can either buy it now or just hang around here for the next 6 years. LOL!
Cherry Tomato Salad
1 pint cherry tomatoes
6 bacon slices
1/4 cup mayonnaise
1 tablespoon tarragon vinegar
2 tablespoons olive oil
1/4 teaspoon salt
1 tablespoon fresh basil — chopped
6 leaves romaine lettuce
2 tablespoons chives — chopped
Wash and stem tomatoes. Dry completely. Cook bacon until very crisp; drain thoroughly on paper towels.
Mix mayonnaise, vinegar, olive oil, salt, and basil. Pour over tomatoes, crumble bacon over all, and stir to coat tomatoes with dressing. Serve on lettuce leaves, sprinkled with chives.
Serve at once or refrigerate until ready to serve.
August 16, 2008 | Leave a Comment
Each Saturday I'll post a free salad recipe from my new salad cookbook. It ha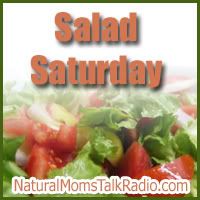 s over 365 recipes, so you can either buy it now or just hang around here for the next 6 years. LOL!
Caesar for Two
1 each Clove garlic — minced
1 each Head romaine lettuce
1 each Tin Anchovies (Millionares)
Croutons
4 each Bacon chopped
2 tablespoons Olive oil
2 tablespoons White vinegar
2 tablespoons Worcestershire
Dash Tabasco
Lemon
2 each Egg yolks
Cappers
3 tablespoons Parmesan cheese
Crush garlic in oil with fork in bowl. Add 1/2 can anchovies, capers & chop mince with oil.
Separate egg yolks in small bowl and add to mixing bowl Add Worcestershire sauce, lemon, Tabasco, vinegar and bacon bits mix well. Let stand for 5 minutes. Toss salad and add croutons and cheese.
August 9, 2008 | 1 Comment
Each Saturday I'll post a free salad recipe from my new salad cookbook. It ha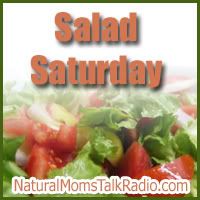 s over 365 recipes, so you can either buy it now or just hang around here for the next 6 years. LOL!
Carrot Raisin Salad
2 Tbsp Raisins
1 Tbsp Cider Vinegar
1 C Carrots — coarsely shredded
1/2 C Pineapple Chunks in Juice — drained
2 Tbsp Pineapple Juice — unsweetened
dash Ground Cinnamon
dash Ground Nutmeg
Combine raisins and vinegar in a med. bowl; let stand 15 min. Add carrot and pineapple tidbits; stir well. Combine pineapple juice, cinnamon, and nutmeg; pour over carrot mixture, and toss well. Cover and chill.
August 1, 2008 | 1 Comment
I discovered a blog recently that I've enjoyed reading and this week she's giving away a copy of The Creative Family by Amanda Soule.
I want to win. But because I'm so unselfish, I'll share the link with you too.
SimpleMom - The Creative Family
I don't consider myself a creative person at all - at least not in the sense that I usually think as creative. But my kids on the other hand, are VERY creative.
So I would love to nurture this in them some more.
The Creative Family: How to Encourage Imagination and Nurture Family Connections
July 11, 2008 | 2 Comments
Every once in awhile a reader emails me to ask how to find bargains on natural products. The sometimes frustrating thing about using non toxic skin care and other products is that they're more costly.
True enough.
Good stuff does cost more. But, if you're a savvy shopper and willing to do a little digging, you can find bargains on natural products. Here are some tips on how to do that.
Be alert to clearance bargains. In just the last week I've snagged some great deals on a couple of natural beauty products at my local Publix grocery store. Not exactly a health food co-op, it's the closest grocery store to me (a 4 minute drive) so it's the place where I do the bulk of my shopping. They always have a few shopping carts full of clearance items and I always check it out.

A couple of recent finds: Burt's Bees Pomegranate Shampoo and Conditioner for $3 each (retails around $8 each). I bought several of these! I found Burt's Bees lip gloss for $2 too.

Another find: California Baby Diaper Rash Cream for $3 each (normally retail at around $10). I don't have a baby in diapers, so I plan on giving these away here sometime soon.

I've also snagged some Burt's Bees lotions on clearance at CVS. There are always products being discontinued and such and since a lot of the more natural products don't sell as well at larger drugstore chains, you can find them marked down occasionally.

 

Check company websites. I am frequently able to print off valuable coupons for products I use regularly or want to try, just by visiting the company's website. Sometimes you have to sign up for their newsletter, but that's ok because then you'll get more coupons straight to your inbox.

Ditto for grocery store websites. Again, Publix sends me their print magazine in the mail and today I got about 20 $1 off coupons for natural/organic items, including one for the Clorox GreenWorks line which I really like. So before you buy a product, take a minute to check out the website and see if they're offering any coupons.

 

Visit frugal/coupon/freebie websites. There are quite a few blogs I visit regularly to check out the freebie and coupon postings. Just to name a couple that have give me valuable info recently: Money Saving Mom, BeCentsAble and Freebies4Mom

I have these 3 on my RSS reader and check them daily. They all turn up some great deals, including this one: Walgreens Saturday event with Yes to Carrots coupons and freebies. It just so happens that I will be passing by Walgreens Saturday on my way to another errand so I am absolutely going to drop in and grab a free Yes to Carrots Lip Butter!

It was one of these sites that alerted me to free coupon booklets for organic products that were distributed several weeks ago in grocery stores and health food stores. I'm still using these up, and most of them for $1 off various organic food items.

 

Check here. I post discount codes for online retailers like Amazon and other sites as often as I get wind of them. It seems that about once a month Amazon has a percentage off sale on organic and natural product lines.

Make sure you're signed up for my newsletter because I send them out there too (enter your name and email in the box on the upper right hand corner of the site). I also get discount codes periodically from some of my guests who have ecommerce sites. In a few weeks I'm featuring a company that sells frozen organic baby food (they ship!) and they're offering a freebie, so stay tuned for that.

 

Contests and giveaways. Winning free stuff is cheap. You can sign up for newsletters like Ecobunga to get wind of the best giveaways and contests for natural and organic products all over the web.
So those are a few of my strategies. Of course, some of the best ways to save money are to minimize the number of products you use in the first place and make your own stuff as much as you can.
What are some of the ways you save money on natural/organic skin care and other products?
July 11, 2008 | Leave a Comment
We've just added a bunch of new delicious recipes to the whole foods recipe site including:
For Omnivore Types:
Roasted Almond Chicken Salad
Tortilla Chicken Bundles
Layered Corn and Chicken Salad
Yummy Beverage:

Lavender Lemonade
For the Veggies:
Lentil Salad
Cilantro Garlic Hummus
Red Potato Salad
Grilled Vegetable Medley
and more!
We've also added a feature to make printing the recipes much easier. Just look for the "print this post" link at the top left corner of each recipe for a printer friendly version of the recipe.
Enjoy
July 10, 2008 | 38 Comments
Want to win a free subscription to KIWI, the magazine for growing families the natural way?
Here's what you do:
Leave a comment below. The deadline is Sunday, July 13 at 10 P.M. Eastern.
That's it! One commenter will be randomly chosen and their name will be announced on next week's show!
June 14, 2008 | 3 Comments
Each Saturday I'll post a free salad recipe from my new salad cookbook. It ha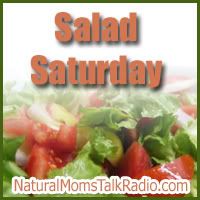 s over 365 recipes, so you can either buy it now or just hang around here for the next 6 years. LOL!
Broccoli Cauliflower Salad
1 bunch broccoli (separated into florets)
1 head cauliflower (separated into florets)
8 strips nitrite free natural bacon (fried and crumbled)
1/3 cup of chopped purple onion
1 cup chopped seeded tomatoes
1 cup natural mayonnaise
1/3 cup Sucanat or Rapadura
2 tablespoons vinegar
1. In a large salad bowl, combine the broccoli, cauliflower, bacon, onion and tomatoes. Set aside.
2. In another bowl, combine the mayonnaise, sugar and vinegar – mixing until smooth. Combine.
3. Just before serving, pour dressing over the salad and toss.