April 8, 2008 | 2 Comments
Diana Walker of The Cravings Coach has decided to launch a podcast!
She will be sharing tips and advice to help moms live healthier lives and overcome their cravings for salt, sugar, carbs, caffeine… you name it.
Go have a listen and check out her Cravings Secrets ebook too while you're at it.
February 29, 2008 | 5 Comments
Chele from Moms Love Shopping asked me to come back on her show to talk about what I see as a negative side of the CVS shopping "system". As I said on the show, it was with much caution that I wrote about this. If you haven't read it yet, go read my post on CVS and the natural mom.
One of the points that I made on the show is that we vote with our dollars. We make a statement with our purchases. And our non purchases. When we buy lots of single use products that pollute our environment and our bodies, we're telling manufacturers to create more of these cheap disposable goods with unhealthy ingredients. We're telling them that cost is the most important consideration for us. (When it should only be one consideration.)
We're also getting caught up in the culture of spending, the culture of consumption. That's a bad habit that leads to more of the same.
On the other hand, when we buy quality products that are built to last, that are reusable and not wrapped in multiple layers of plastic, we are also sending a message. To both the marketers of these products and our children.
There are better ways to be frugal in my opinion. We can make our own natural skin care products, we can use cloth menstrual pads or other alternatives. We can use cloth diapers. We can clean with natural home cleaning products that we make ourselves. And there are a million other ways to save money.
We can also buy products that last. For example, buying toys from family owned companies like Heirloom Wooden Toys so that our kids can pass these along to their own children.
Some other great related blog posts about when frugal isn't best:
Get Rich Slowly: Shopping leads to more shopping
Being Frugal: When buying on sale isn't frugal
So what do you think? When is the frugal choice not the best choice?
February 15, 2008 | 3 Comments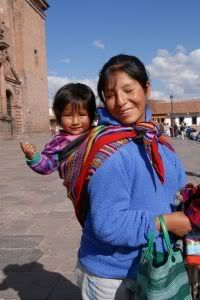 Well I just spent the last ten minutes learning that there is no Spanish word for blog.
I was going to get all fancy and name this post "blogging for chocolate" in Espanol, but that's a little hard to do when you:
1) had about 15 minutes of Spanish class in 7th grade and
2) there's no word for it anyway!
Well, I'm sure the cool babywearing mom on the left would know how to say it. Maybe it's something like "online journal" or "website diary" or something. And I found that picture at stock.xchng and have been waiting for just the right post to publish it in! Yea me.
And you know the best hot chocolate has a little cayenne pepper in it? Same for chili (served up with a little cocoa powder in it, that is).
But I don't know the Spanish word for blog, so, this post is simply titled "plain chocolate".
Here goes.
Show that inspired this post: Marie Ynami's show with yours truly at Mommy Community
100 words: Marie was a sweetie and invited me to talk about my Ultimate 365 Salad Cookbook.
Which, incidentally, has at least 5 Mexican/Latin inspired dishes. Including Mexican Green Bean Salad. And Mexican Beef Salad. And Jicama Cole Slaw. And California Chicken Salad featuring tomatillo. Say it with me. TOE-MAAAHH-TEEEE-YO. And Mexican Pasta Salad. And other recipes featuring Spanish olives.
So, go buy it. Ahora!
Link to Moms Talk Radio
February 14, 2008 | Leave a Comment
LaTara of Vegan Family Living talked about soul food on her show last week.
I grew up eating soul food like black eyed peas and collard greens, fried chicken, sweet potato casserole, squash casserole (one of my favorite foods in the world), fried okra, cornbread and dressing, pinto beans, with chow chow on the side….. mostly I got these delicacies at my Grandmother's house (my Mom was a great cook but she's from out west, she didn't cook "Southern" so much).
A lot of these dishes are actually quite healthy. Southerners like my Grandparents ate a lot of vegetables and beans. People make fun of Southerners because of the way they eat, but most of the older people I know who ate bacon with breakfast every morning were eating vegetables they had grown themselves in their gardens, meat they raised by hand, eggs from chickens that were pets. In my opinion their diet was far superior to a lot of people's today. They also worked very hard and burned off all that fat.
I am amazed that LaTara can make vegan "fried chicken"! But, I'm probably never going to eat chitterlings.
February 14, 2008 | 2 Comments
All this talk of chocolate reminded me about my raw chocolate candy recipe that Tiffany Washko asked for last week. These snacks are yummy for anyone, but if you or your child is sensitive to wheat, they're flourless too!
Raw Chocolate Candy 
1 cup cashews, chopped fine
1 cup almonds, chopped fine
1/2 cup raw honey
1/2 carob (you can also use cocoa if you prefer)
1 tsp sea salt
1 T. all natural vanilla flavoring
1 cup grated coconut
Warm honey by placing the jar in a bowl of hot water. Mix honey, carob or cocoa, salt and vanilla and mix well. You can either chop the nuts in a food processor or the blender. Process until finely chopped. Add coconut and pulse until blended. Place in bowl and add cocoa mixture, blending well.
Place greased wax or parchment paper on a cookie sheet. Spread mixture on top. Place in refrigerator until firm, typically several hours. Then form into balls, or cut into small squares. You can also use other nuts if you wish.
February 14, 2008 | 2 Comments
I've been meaning to post this for several months, but listening to Marie Ynami interview Christine McKinley on her podcast reminded me. They talked about Christine's free teleseminar (which is now passed but if you check out her site she offers this information in ebook format) all about getting out of debt.
Basically, this is what I did to pay off my credit card debt:
Stopped using the cards - You can't get out of a hole unless you stop digging!
Paid off the smallest card first - I did this for the psychological boost it gave me. It had a small balance and getting it over with made me happy.
Created a large visual - I put a large chart on my office wall with my debt, income and savings. It was exciting to see my savings and income grow each month while my debt got smaller!
Sold stuff of value - I got rid of things that didn't mean a lot to me but that could be turned into cash. And I disciplined myself to use that money towards the debt.
Started an emergency fund first - While this seems backwards to some, it helped me feel safer and in control. I thought it would be awful to get out of debt and then have all 4 tires fall off my car or have some other emergency and have to get back in! So having that "baby contingency fund" gave me real peace of mind and made me feel proactive instead of reactive.
Ramped up my income - I worked hard in my business to step up my earnings.
Tracking my spending - I kept a small notebook in my purse and wrote down EVERY penny I spent. Just the act of doing that curbed my spending! Plus it pointed out weak spots (coffee and books) that I could work on.
Rewarded myself for being frugal - I budgeted a small amount (less than before but still something) on little treats for myself so I wouldn't feel totally deprived.
Transferred balances - I transferred balances on two cards to one that offered zero interest for 6 months. And I paid it off in 6 months then closed the card. Teehee! I beat the evil credit card companies at their own game!
Read a lot about personal finance - I read a lot of books during that time about debt, personal finance and emotions around money. I discovered some great blogs!
I made sacrifices - I temporarily stopped paying my kids an allowance. I talked to them about my goals, about debt and about what we would do when the debt was paid. One of the things I did when the cards were paid was buy my oldest a guitar. I also didn't buy myself new clothing for a few months. I just kept focusing on what I wanted, which was to not be beholden to anyone, and did whatever I could to meet that goal, which meant sacrificing things that weren't as important to me.
I spoke my goal out loud - I shared my goal with others who were close to me, and because of that, opportunities came my way because I had declard my intention.
I hope that helps someone else
February 14, 2008 | 2 Comments
When I grow up and my kids are teenagers, I hope I'm as cool as Aurelia Williams. Aurelia's show is all about parenting teenagers. I listened to this week's show and thought about the fantasy I've always had with my younger kids.
I imagine myself sitting in front of a coffee shop sipping latte with my oldest son Caleb. He has blonde hair that's really light at the tips and his big blue eyes are shining. (Yes, he is my child. Very blonde and very blue eyed. When he was born I was like, "Did that just come out of me?" So much for dominant genes!) He's tall and skinny and wearing baggy skater pants. He's well read and a great conversationalist - this isn't much of a stretch, he's both those things now.
I imagine us having conversation. I am laughing at his jokes and generally enjoying listening to his point of view on things. Sometimes he scares me a little bit, but mostly I'm so proud of him I could bust open and spill out all over the sidewalk.
I guess what I'm trying to say is, I'm really looking forward to my teenagers. Despite our stressful moments, we have great communication. Even though I've overreacted to things and overdisciplined many times, for the most part I know when to slow down and just listen. Reading books like How To Talk So Kids Will Listen has taught me how to acknowledge and mirror feelings. I've also learned how to talk through problems instead of automatically punishing or consequencing. I also know about myself that I won't take adolescence personally. It's not about me, it's about them needing to push/pull to become an adult.
Thanks Aurelia for providing such great information and being so positive about the parent - teen relationship!
February 14, 2008 | Leave a Comment
Not really.
Moms Morning Show today also reminded me about an awesome book I read and reviewed recently called What Happy People Know.
The science of happiness has always interested me. Why did some Holocaust survivors survive and go on to make something meaningful out of the experience, when others gave up emotionally and die prematurely in the camps? Why do some people who survive childhood abuse become Hitler, and others become Oprah?
A lot of it has to do with our brain chemistry - but we aren't powerless to change that chemistry. This book tackles some of the "happiness traps", one of which I mentioned on the show linked above, and that is the expectation that life will behave all the time. Read about the other happiness traps in the book.
February 14, 2008 | 2 Comments
I almost forgot to mention another effective way of promoting your blog (this post was inspired by Mom's Morning Show on the topic), and that is:
Hosting Contests
Giving away stuff on your blog is fun, a great way to create goodwill with your readers, and grow your traffic. There are a few reasons for this. One is that people who own "freebie" and contest sites will link to you since you're a freebie source. Another reason is that bloggers will link to your contest as a way of increasing the chances they'll win (since you will specify this in your contest of course!).
You can give away digital products like ebooks, or even physical products. Buying things to give away as a promotion is a legitimate tax deduction (I aren't a CPA so check with one before doing this!).
By the way, go here to see this week's Contest Winners!
February 14, 2008 | Leave a Comment
Today on Moms Morning show, Cara, Chele, Tishia and Annette talked about blogging for fun -
They mentioned blogging memes. One of the ones I really like and used to to every week was Thankful Thursday. I have kind of forgotten about it and got out of the habit, but it's one of my favorites and I want to get back to it.
I have several blog memes here on this site. If you like you can grab the code on the right sidebar for any of the graphics and use them to play along!
Marie Ynami started Tuesday Toot, and Chele and Annette launched Tell Me Thursday (as a follow up to Wordless Wednesday, which I almost never participate in because I am digital camera challenged and each time I buy one it breaks!).
So what are your favorite memes?