Chocolate Amargo
February 15, 2008
If you're new here, you may want to subscribe to my RSS feed. Thanks for visiting!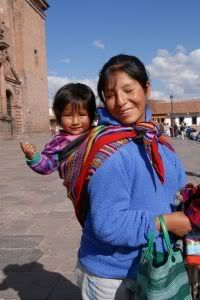 Well I just spent the last ten minutes learning that there is no Spanish word for blog.
I was going to get all fancy and name this post "blogging for chocolate" in Espanol, but that's a little hard to do when you:
1) had about 15 minutes of Spanish class in 7th grade and
2) there's no word for it anyway!
Well, I'm sure the cool babywearing mom on the left would know how to say it. Maybe it's something like "online journal" or "website diary" or something. And I found that picture at stock.xchng and have been waiting for just the right post to publish it in! Yea me.
And you know the best hot chocolate has a little cayenne pepper in it? Same for chili (served up with a little cocoa powder in it, that is).
But I don't know the Spanish word for blog, so, this post is simply titled "plain chocolate".
Here goes.
Show that inspired this post: Marie Ynami's show with yours truly at Mommy Community
100 words: Marie was a sweetie and invited me to talk about my Ultimate 365 Salad Cookbook.
Which, incidentally, has at least 5 Mexican/Latin inspired dishes. Including Mexican Green Bean Salad. And Mexican Beef Salad. And Jicama Cole Slaw. And California Chicken Salad featuring tomatillo. Say it with me. TOE-MAAAHH-TEEEE-YO. And Mexican Pasta Salad. And other recipes featuring Spanish olives.
So, go buy it. Ahora!
Link to Moms Talk Radio
More Posts By Carrie:
Comments