Wahm Wednesday: Hire My Mom
April 16, 2009
If you're new here, you may want to subscribe to my RSS feed. Thanks for visiting!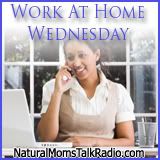 I know it's Thursday.
But I wanted to make sure I published this info here instead of waiting until next week. So forgive me for being a day late. This week has been … different to say the least.
Also posted at CarrieLauth.com , my work at home blog.
I recently decided to look around at the freelance work from home websites for a very part time gig to supplement my income. I have some additional expenses in the next few weeks due to some life changes, and want to put some extra money in the bank.
Doing some Virtual Assistant work seemed like an ideal solution. I don't necessarily want to commit to a job outside the home that would only pay me a fraction of what I'm worth and would take me away from my youngest child more than I'd like.

HireMyMom is a baby of Lesley Spencer Pyle, whom many know from sites like HMBW and the Work at Home Kit. She's quite well known in the work at home/internet marketing world and I trust her reputation. I knew it would be a quality experience.
I signed up to access the database. Yes, there is a fee – it's under $40 for a quarter and you can cancel before your card is billed again if you wish. I opted to go ahead and pay for the service instead of hunting down all of the free job sites. In addition, the projects/job ops are prescreened so there are no MLM or Direct Sales ops posing as jobs. Less clutter, more professionalism.
Once I got my username and password, I logged in and immediately began searching the projects and jobs available. There was a wide variety listed.
Such as:
- Data Entry
- Customer Service
- Blogging/Writing
- SEO
- Blog and Website Content Management
- Sales
- Appointment Setting
- Internet Marketing Assistance
- Graphic Design
- Web Design
- Personal Assistant
And more. Literally something for every mom.
Right away I saw two projects that were aligned with what I'm qualified to do. I sent emails to the two individuals who posted them. I heard back from both almost immediately. The first one didn't meet my standards (read: didn't pay enough!) but the second one is working out nicely and I'm looking forward to a long term relationship with this person. I'm impressed that basically within 24 hours of logging in the first time, I've already been hired.
I'm actually excited about the opportunity to offer my skills and knowledge to this business to help them – and get paid by the hour to do so. The business owner, also a single mom, and I are getting to know one another and I think we'll work great together.
If you're looking for work at home that's legit and matched to your individual needs, I recommend searching HireMyMom.
The projects are updated daily. You get an email from them each day but you can also login at any time to see what's been added.
And one more thing.
Kelly McCausey recently released a print book – not an ebook, a real live workbook! – all about how moms can start an online business.
I just finished reading it and it is AWESOME.
More Posts By Carrie:
Comments