style="display:inline-block;width:300px;height:250px"
data-ad-client="ca-pub-2607382647247738"
data-ad-slot="0517118996">

First, before sharing my recipe and how to's for making homemade lacto-fermented salsa, I am going to share the WHY of such.
What IS Lacto-Fermented Salsa and Why Should I Care?
To quote Nourishing Traditions,
"Lacto-fermentation is a process whereby special bacteria transform sugars and starches into beneficial acids. These … are valued for medicinal qualities including the ability to relieve intestinal problems and constipation. The proliferation of lactobacilli in fermented vegetables enhances their digestibility and increases vitamin levels. These beneficial organisms product numerous helpful enzymes as well as antibiotic and anticarcinogenic substances. Their main by-product, lactic acid… promotes the growth of healthy flora throughout the intestine."
To put it simply, lacto-fermented foods are whey good for you. Especially if you have any kind of issues with yeast, you need to be eating lots of lacto-fermented foods daily. They're highly nutritive. Also great for anyone with any kind of tummy troubles. You can skip the expensive enzyme or probiotic supplements if you eat lacto-fermented veggies regularly.
Throughout the world, traditional peoples haven eaten lacto-fermented foods.
They're your kefir, your buttermilk, your yogurt. Your sauerkraut, your kim chi, your salsa, your chow chow, your relish, your pickles. They're your umeboshi and your chutney, folks. Every culture has 'em and they are eaten with most every meal in small portions as a condiment.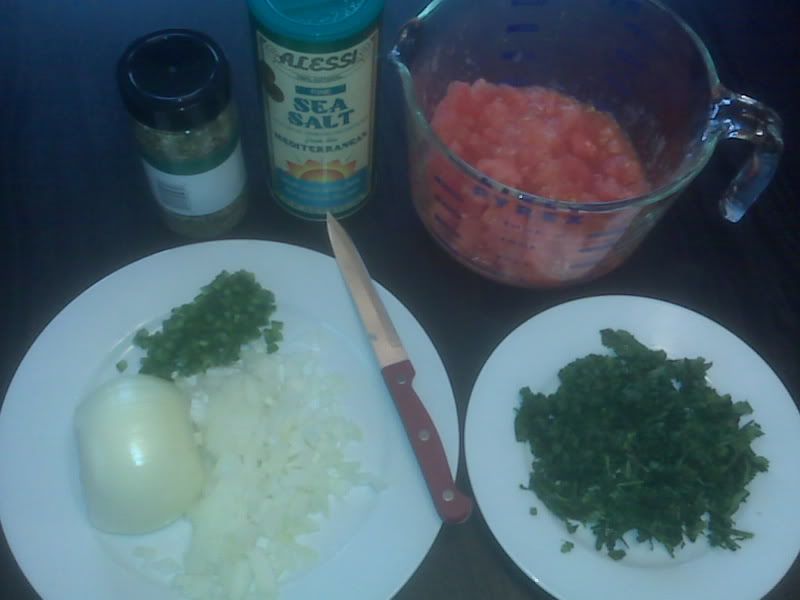 Making them at home the old fashioned way means they're more nutritive and much cheaper.
Lacto-fermented foods are the ultimate in "food as medicine and medicine as food".
If you're unconvinced, get your hands on a copy of Wild Fermentation.
Now for my recipe:
Homemade Lacto-Fermented Salsa
6 tomatoes, peeled, seeded and chopped
1 large onion, diced
3 or 4 diced jalapenos (optional)
1 small bunch cilantro, chopped
1 tsp. dried oregano
juice of 2 lemons
1 T sea salt
4 T whey
1/4 cup water
Note: This is an adaptation of the recipe, again, from Nourishing Traditions. After some experimentation, I like my version better.
Now, if you're new to the whole Weston A Price/Traditional diets way of thinking, I'll have to explain how to make whey. It's easy and cheap.
How To Make Your Whey
Buy a tub of organic, plain (unsweetened, unflavored) whole milk yogurt (like Stonyfield). Place it into a colander or sieve that is lined with a thin tea towel and place that on top of a large bowl. If you don't have a thin tea towel, coffee filters or cheesecloth will work too.
Let that sit overnight in the fridge. The stuff in the bottom of the bowl? There's your whey. You can use the "yogurt cheese" several ways. Sweeten it with some honey and add nuts and you have a yummy topping for toast. Google yogurt cheese for lots more ideas.
Wasn't that easy?
Back to Lacto Fermented Salsa – It's Whey Cool!
Salsa making is easy. Just mix all the ingredients listed above and place them into clean glass jars. Wide mouth Mason jars are great, but if you don't have any, use any clean glass jars. I like old Bubbies sauerkraut jars or any other that I have hanging around (I like to save my glass jars for food storage, they're great for storing and freezing everything from nuts to broth and are safer and more hygienic than plastic).
If you don't know this already, you can quickly and easily peel tomatoes by bringing a pan of water to boil on the stove in a saucepan. Dip one tomato at a time in the rapidly boiling water with a slotted spoon. Remove after a few seconds, and the peel slips right off. To seed tomatoes, cut them in half widthwise, hold over a bowl and squeeze gently. The seeds come right out.
Once you have your veggies in the glass jars, press them down a bit with a spoon so they are under the water/whey/lemon juice liquid.
Now, all you have to do is leave them out at room temp for a couple of days on your counter.
After that, stick them in the fridge. Lactofermented salsa is best after it's a week or two old. It gets fizzy and has a nice kick to it. Guaranteed to knock the socks off of anyone who eats your next taco, burrito, nacho or whatever dinner.
… And your colon will thank you!