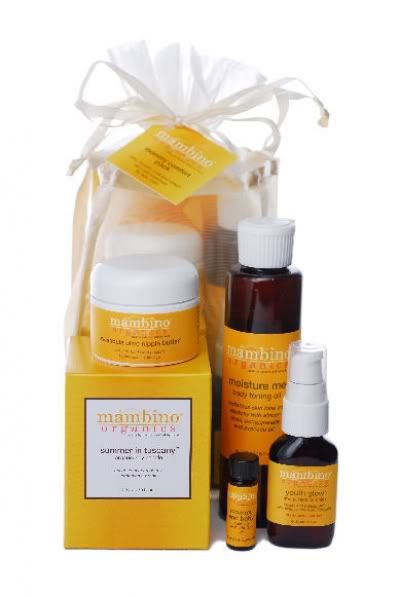 This kit contains some of the nicest organic skin care products I've ever used.
Mambino Organics was invented by a mom named Maki Maodus who suffered with cystic acne as a youngster.
She used natural remedies to heal it and decided to use her knowledge in herbalism and aromatherapy as an aesthetician to help others with their skin problems.
Now she's a facialist to the stars but hasn't forgotten her natural roots. Mambino organics is made from yummy oils and other natural ingredients that are safe for pregnant moms and even babies. There are no chemicals or additives, no parabens, no petrochemicals, no alcohol.
Mambino organics is an award winning line and I can understand why.
Here's a little bit about each of the products I've been using.
The Kissable lips lip balm has become my all time favorite lip balm. It's not heavy or greasy but does the job. It's the only lip balm my 3 year old will tolerate. The others are "too hot", according to her.
The Youth Glow Omega Face Complex feels so luxurious going on my face! I use just a dab on my skin at night after cleansing. It smells HEAVENLY, probably because of the rosa mosqueta and orange oil. I feel all tropical and fruity and love the way it sinks right into my skin without being greasy.
Ditto for the Moisture Me Body Toning Oil, which I rub on my belly after I take a shower. It has shea, pomegranate and avocado oil. I don't have a pregnant belly, but I could use some, um… toning in that area. LOL! It has oils that boost collagen production and strengthens connective tissue (scientific talk for helps get rid of cellulite!).
I can't say much about the Nipple Butter because my nipples are so far beyond needing this product, after almost 11 years of nonstop breastfeeding. I've been using it as a boo-boo cream. At least, on my 7 year old who cannot read the jar. The 10 year old won't stand for it.
The Tippy Toes ultra gentle baby oil I use on my youngest after her bath. This winter her little legs get so dry, so after she towels off, I squirt it onto her legs and massage it in. It sinks right into her skin without being greasy. That's one way you know the oils are natural. If they sit there and get slick, they're made from petrochemicals. You could also use it on baby's scalp for cradle cap.
And finally the Mommy & Baby calming aromatherapy oil is lovely. It's a lavender and roman chamomile blend, both of which are recommended by aromatherapists for teething, fussy, colicky or sleepless babies. Safe to use straight up on baby's skin, or put a few drops on yourself if you have nausea. Also very calming for postpartum stress or insomnia.
You can get several of the products in convenient, smaller sizes as a gift or for travel in the Mambino Organics – Mommy On The Go kit, which comes in a pretty travel pouch.