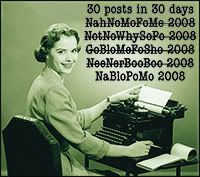 After hearing about NaBloPoMo for ages, I finally decided to join the fun. It's funny because I felt like I needed a 30 day challenge, and then stumbled upon this. Kinda serendipitous.
Basically NaBloPoMo, if you're not familiar with it, encourages you to blog daily for one month. I already do that most of the time, but having the discipline and public accountability is good too.
Perhaps my involvement will mean some new blog traffic too, since the NaBloPoMo site adds my link to their blogroll and also features a participating blog on their main page using a "randomizer". Whee!
Want to play along?