Healthy Snacks for Kids
Children are on the go constantly. They need healthy between meal snacks to supply nutrition and replenish energy. Junk food diets have contributed to obesity and health problems in children. It is more important than ever to train kids to eat healthy. Below are some ideas for healthy summer snacks that are easy to fix.
Raw Fruits and Veggies – Keep the refrigerator stocked with a selection of fresh fruits and vegetables. Applesauce and prepared fruit purchased in cups are great for packed lunches on family outings.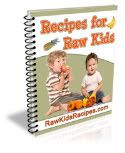 Children like to eat what is fun. Sliced apples and bananas are great spread with nut butters. For variety try almond or hazelnut butter in place of peanut butter.
The kids will enjoy almost any variety of fresh raw vegetables. A plate filled with cucumber rounds, cherry tomatoes, celery, and baby carrots served with a dip will quickly be gobbled up. Organic ranch dressing mixed with equal portions of cottage cheese is a dip for the fresh veggies that will appeal to kids.
Nuts and Grains – Homemade Mini-muffins will be healthy, easy for the kids to handle and great with fruit and veggies. Zucchini, banana and carrot bread recipes work great. For extra healthy muffins substitute applesauce for the oil and halve the sugar.
Nuts are packed with protein, vitamins and minerals. Mix together rice chex or homemade granola, nuts, raisins, and dried fruit pieces for a healthy homemade trail mix.
Cool Kid Snacks – Kids love finger food and frozen grapes eat like candy. Grapes are rich in antioxidants and make a nutritious snack. Wash seedless grapes and keep in freezer until ready to eat.
Bananas can be frozen for a delicious sweet snack the kids can eat like a Popsicle. Arrange banana halves on wax paper and freeze bananas for 20 minutes. Remove bananas from freezer, slip a Popsicle stick into each half, and dip into melted chocolate. Return the bananas to freezer until solid (about an hour) before serving.
Gelatin blocks are great fun for kids and made with fruit juice are a healthy way to provide energy. Sprinkle 4 envelopes of Knox unflavored gelatin over 1 cup cold fruit juice; let stand 1 minute. Add 3 cups fruit juice heated to boiling and stir until gelatin is completely dissolved. Sweeten to taste, Pour into 13 x 9 inch baking pan and chill until firm. To serve, cut into 1-inch squares. This makes 9 dozen fruit juice blocks.
Make sure your kids don't grow up to think only of junk food. Help them to see the value of 'healthy snack alternatives' and provide the kids with nutritious, delicious snacks that will benefit their health.