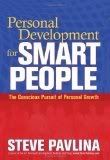 I got a copy of Steve Pavlina's new book, Personal Development for Smart People: The Conscious Pursuit of Personal Growth
in the mail several weeks ago. If you could see my personal copy, you would be able to tell right away how valuable I think the information is, because there are about two dozen of those little Post It flags sticking out of the ends of the pages, marking spots that I want to reread and absorb again later.
If you're not familiar with Steve, he is one of the most well known bloggers on the internet, and probably THE most known blogger in the genre of personal growth. I've read his blog for a couple of years now, and his posts are always fascinating. They always make me think. I like that.
Personal growth is one of my favorite topics to read about, although I rarely write about it, and usually not here but on my other blog in a business context.
I'll start by saying that I don't agree with some of the things Steve says, especially on his blog, and where I disagree, I disagree passionately. As an example, Steve's thoughts on religion seem to come from a place of his disgruntled feelings with regards to the Catholic church, which hardly seems an enlightened place to form a philosophy on religion as a whole. Steve is also a raw food vegan. (Y'all know how I feel about that.)
But, his blog is one of the most thought provoking, intellectually stimulating places to hang out on the web.
So I was happy to read his book.
One of the things that sets Steve apart is the fact that, unlike so many other authors and experts in the field of personal growth, he focuses on the value of hard work and (gasp!) discipline, two things that are practically dirty words these days. That resonates with me. All the wishing, hoping and visualizing in the world doesn't do much good if you're not willing to get off your butt and create some value in the world. That's a refreshing stance, and one of the reasons I keep reading Steve's blog. Some of the language around "The Secret" just makes me ill, and Steve's voice is a refreshing change in the sea of nonsense surrounding the "Law of Attraction".
Now I'm going to dig into the book and mention some of the highlights for me personally.
The book is split into two sections. Part One outlines what Steve calls "Fundamental Principles" of personal development. They are Truth, Love, Power, Oneness, Authority, Courage and Intelligence. When I first started reading the book, I couldn't figure out how these principles were supposed to work together, but after introducing each one and defining it, it started to come together and make sense.
The second half of the book deals with the Practical Application of the principles. This is my favorite part, the juicy stuff. While learning principles is important, getting into the nitty gritty of specific things you can do to improve yourself and your life really gets my blood flowing.
Here's an example of how the principles lead to the actions you need to take. A section from the book on Truth:
"One of the most important skills to develop in the area of personal growth is the ability to admit the whole truth to yourself, even if you don't like what you see and even if you feel powerless to change it. When you face unpleasant truths, you'll often encounter strong internal resistance. This resistance pushes you to avoid facing the truth, running through endless cycles of distraction, escapism, denial and procrastination. Only by staring directly into these truths can you summon the strength to deal with them consciously. A simple rule of thumb is this: whatever you fear, you must eventually face."
Wow… I can see how true this has been in my own life.
I really enjoyed the section on goal setting. For me, goal setting has been mostly an exercise in frustration. It wasn't until reading this book that I figured out why. Here's a quote:
"The purpose of goal setting is not to control the future. That would be senseless because the future only exists in your imagination. The point of goal setting is to improve the quality of your present-moment reality. Setting goals can give you greater clarity and focus right now. Whenever you set your sights on achieving something, always ask yourself, "How does setting this goal improve my present reality?" If it doesn't improve your present reality, then the goal is pointless, and you may as well dump it. But if it brings greater clarity, focus and motivation to your life when you think about it, it's a keeper."
Love that!
I also love the sections on motivation, desire and effort. The discussion of "Triage" can help you decide what's truly important to spend your time on, whether it's business or personal life. And my favorite part of the book is Chapter 8, which talks about Habits. This section has dozens of suggestions on how to increase the number of good habits you have in your life, and get rid of the bad ones.
One of the things you'll notice about Steve's blog is how he shares his personal journey with self improvement. Instead of having a "top down" approach where he claims to be the expert teaching others how to do it, the blog is more about him sharing his experiences with different things he's tried in his own life, from polyphasic sleep to giving up coffee to becoming an early riser. Chapter 8 is where he shares some of the things that have worked for him. Ideas like Stairstepping, 30 Day Trials, and a list of 66 other ideas.
The chapters on Career and Money have been truly refreshing and have changed how I feel about money to a certain extent.
I still haven't finished reading the book and am looking forward to finishing up the last couple of chapters. I really appreciate Steve for writing it and for letting me have a review copy. If you would like to check it out, you can get a copy on Amazon.com. It's available for your kindle too if you're into that.
Personal Development for Smart People: The Conscious Pursuit of Personal Growth