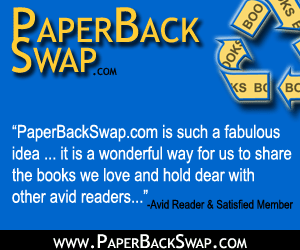 Have I mentioned PaperBackSwap lately?
Oh how I do love PaperBackSwap.
Why? Well, two ways mostly.
Reduce clutter
Don't get me wrong, I love books. I have 4 bookcases in my living room alone. But unless a book is one that I know for sure I'll be revisiting monthly, or is a classic kid's book that will be re-read again and again by multiple children, I don't keep it. I list it on PaperBackSwap and bless someone else. This keeps my book stock relatively uncluttered.
Save money
Obvious but worth pointing out. I only pay postage when I send someone a book. When I receive one, it's free. This is important in a homeschooling household, especially if you have a few bibliophiles (they come by it honest!). So far this school year, my 13 year old 8th grader has devoured 8 novels. That's in 3 weeks!
PaperBackSwap keeps him and the rest of us in fresh reading material.
If you want to become a member (free) and post books, click on the graphic above and begin. The name "Paperback swap" is a bit of a misnomer because you can post (and request) all sorts of books: hardcover, paperback, even audio books.
And once you put 10 books on your bookshelf, I get some more points.
Enjoy!