I love reading books to my kids, but one of my children gets a little impatient with read aloud. I considered creating or buying audio books for my son, thinking that he might enjoy these more.
Another option opened up however. I recently discovered a series of books called My Animal Family. Each book is based on an animal and tells its story. So far there are four books: lion, elephant, polar bear and chimpanzee.
I have the Ella the elephant and Leo the lion books. The books are about what life is like from the baby's perspective.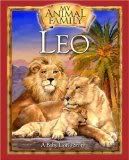 Talk about cute! Who can resist the antics of a lion cub? Reading the book and watching the DVD about Leo was my son's favorite. He loved the part where the baby lion cub kept pestering his napping father until finally the huge lion opened his mouth and roared at the cub to please back off!
Personally elephants are my favorite animals, and I loved observing the baby elephant in the DVD and learning more about them. Did you know that when a newborn elephant calf is born, the female elephants (called cows) actually shed tears? I thought tears would come to my eyes as I observed that.
It was also adorable to see the elephant calf nursing just like a young human baby does. Elephants nurse their young for several years and are very doting parents.
Seeing these animals on the DVD helps kids appreciate their staggering size. An elephant bull can weigh as much as 22,000 pounds!
The DVDs are wonderful because they are low key and shot like a wildlife nature program. The children really feel as if they're right there observing the animals close up. At the end, the special features contain a song about the animal and interesting facts for further learning.
Additionally the books also come with a secret passcode for the accompanying website, at MAF Kids Club
For children who enjoy playing computer games, this will be a big hit. The site also features puzzles, printables and information for parents and educators. I think these books are great for parents. Since children have different learning styles, it can be a challenge to keep everyone involved. I think these books and DVD sets will help with that.
You can find the My Animal Family series of books and DVDs on Amazon