February 23rd, 2008 at 8:00am
Each Saturday I'll post a free salad recipe from my new salad cookbook. It ha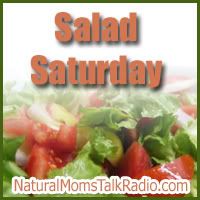 s over 365 recipes, so you can either buy it now or just hang around here for the next 6 years. LOL!
Adreana's Greek Pasta Salad
1 pound rotini
1 pound boneless skinless chicken breasts
3 stalks celery — chopped
1 red bell pepper — chopped
2 1/4 ounces black olives — sliced
4 ounces feta cheese — drained & crumbled
3 green onions — finely sliced
16 ounces all natural Italian salad dressing
Cook chicken in water to cover with 1 bay leaf. Bring to boil and cook for 30 min. or until juices run clear. Cool and remove skins. Or, you can cook chicken in frying pan until cooked through. Cut into bite size pieces.
Cook noodles and drain. Add all ingredients and mix well. Serve warm or cold. Serves 6.