Selma Hayek, Cross Nursing and Carrie
February 13, 2009
If you're new here, you may want to subscribe to my RSS feed. Thanks for visiting!
A couple of days ago a reporter from ABC News called me to ask my thoughts on the whole Selma Hayek cross nursing an African baby thing.
Cross/wet nursing is controversial enough, but throw in a pair of award winning celebrity ta-tas and everyone is listening.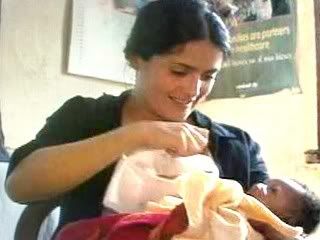 You can see some of the things I said to her here: Selma Hayek breastfeeding another woman's child.
Among other things, I told the reporter that calling Selma "unfaithful" is ridiculous. If any mother saw a toddler fall down on the sidewalk and cut open her knees, and mom wasn't around, she would pick that child up and offer her comfort.
Is that unfaithful?
Using that kind of language just harkens back to the cultural (and I said cultural on the phone, not culturally – not that I'm complaining) misunderstanding that exists about breastfeeding being somehow sexual.
Breastfeeding is intimate.
Breastfeeding is the end result of being sexual (because it completes the cycle of fertility that starts with ovulation, then copulation, then birth).
Breastfeeding feels good. (Or at least it should.)
But breastfeeding doesn't have any more to do with sex than hugging does. Hugging my 10, 8 and 6 year old children isn't sexual.
It's just mothering.
I don't hug my kids "for myself" once they get past a certain age.
I've talked before on this blog about my thoughts on cross nursing and wet nursing, and also mentioned to the reporter that I was personally cross nursed by the mother of a friend of mine. I was 5 days old and my mom had to go back in the hospital for observation. My Mom called her local La Leche League group and moms sent bottles of expressed milk over.
But, I wouldn't take the bottles.
I'm sure my Dad was pretty terrified, with this tiny infant and his beloved wife in a hospital bed. Thankfully my mom's friend was able to come over and breastfeed me during that time. Who knows what might have happened? I might have starved myself for two days in some kind of newborn baby depression and shock.
This morning I told my Mom about the story, and she reminded me that she also cross nursed a baby – a childhood friend of mine.
Apparently her mother's milk was taking a long time to increase postpartum. (Some moms take a week for their milk to "come in", there is nothing magical about the 3 days postpartum timeframe, it's just typical for most women.)
Anyway, little Jennifer seemed to be starving and was screaming her head off, so my mom's friends asked her to come over and feed her. Jennifer's mother's milk finally did come in and they had a happy nursing relationship for a long time. But, I wonder if my mother hadn't done that, would the stress of the experience caused her mom to just give up and offer bottles?
Cross nursing has its place, even in our modern society.
I also told the reporter that (and she was so cute because she's never had kids so didn't know what I was talking about) when a lactating woman hears another baby cry – ANY baby – her body responds accordingly. It's just a natural thing, like the empathy you might feel if you see an older child fall down at the playground. All the moms come running, especially if the real mom can't help at that moment.
(Some of the babies at Blissdom had this effect on me. You know who you are.)
I bet that a lot of women, in that situation, would have done the same thing. I certainly would have. We just wouldn't be the number one video on YouTube. Noone would be the wiser.
When I was still married and had young babies, I had my ex husband swear that he would find a nursing mother to feed my baby if I ever were to land in a hospital and were unable to offer that familiar comfort to my infant. Just knowing that he would have done that made me feel better.
Watch the video and look at the happiness on that baby's face. Tell me there's something wrong about that.
Tell me how you feel about this story.
Would you cross nurse another woman's baby if she asked you? Would you want another woman to nurse your child?
photo credit http://abcnews.go.com/Health/Story?id=6864594&page=1
More Posts By Carrie:
Comments