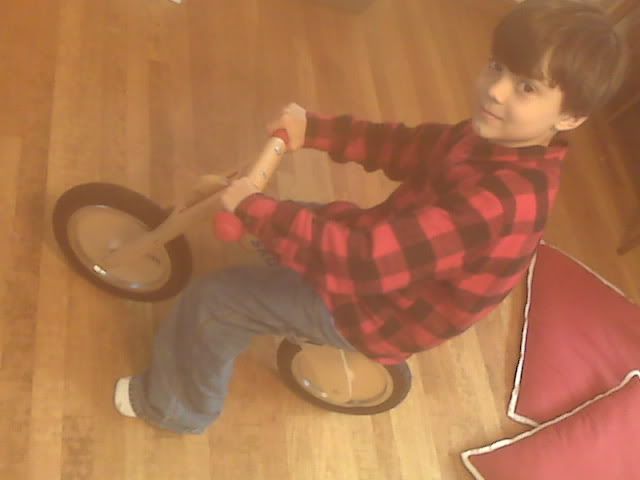 Since moving to an urban community a couple of months ago, the kids have been spending more time skateboarding, walking to the park, and generally running about on the sidewalks.
So I was pretty excited when the UPS man brought us this Skuut bike.
I've never visited Scandinavia, but from books the kids and I have read together, biking is a way of life there, and kids start out with these wooden "balance bikes" before learning how to ride a "big bike". No training wheels, the child learns how to balance using their feet so there's no scary transition.
I thought my 3 and 5 year old girls would love the Skuut, but so far it's been my 7 year old, who already rides a regular bike, who loves it.
When it's too cold to ride outside, he Skuuts around on the hardwood floors of the apartment, as you can see in the picture above. LOL!
I think the Skuut has an awesome, clean looking and attractive design. It took us about 5 minutes to put the bike together (it arrives in a flat pack box), but since most of the furniture in my house came from IKEA, we're all talented like that. Give us an allen wrench and we could probably build a house.
The design is simple but like all things Scandinavian, quite functional. The seat is adjustable as far as height, making it comfortable for a child from ages 2-5 (or a small 7 year old like mine – maximum weight is 70 pounds). It also easily angles back and forth for comfort.
And it's darn cute! The thing looks good just hanging around and happens to match my color scheme (note large red throw pillows complementing red leather seat and handlebars!) so all the better. Leave it to the Scandinavians to design something for kids that isn't garish and ugly and plastic.
Another thing I noticed, and I'm not sure exactly what the wheels are made of (the website says they're pneumatic rubber?), but they don't stink like other rubber wheels. A plus since we store it in the apartment.
I recorded a quick audio testimonial of my son sharing what he likes about his Skuut. Click play to listen!
"You pedal with it with your feet, it goes like 3 miles an hour and it lasts going for ten seconds or longer."
Not to be outdone, 5 year old Ilana recorded her own review of the Skuut bike here:
"It always doesn't have wheels but it's so easier. Sometimes I can balance on it but not really good of course. But I like the bike very, very much."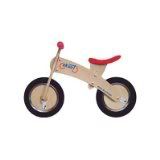 Skuut Balance Bike

P.S. Environmentalists would be impressed that Skuut, has partnered with Trees for the Future, and ensures that a tree is planted for every bike sold.
Also notable is the fact that the Skuut bike won Dr. Toy's 10 Best Active Products.