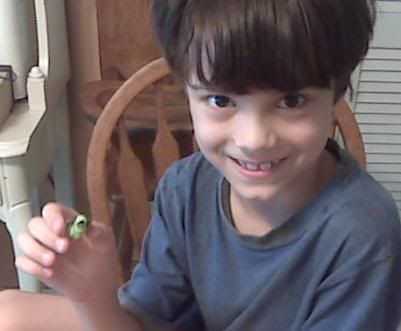 My 7 year old son Julien is really interested in solar energy. He is a constant source of questions.
"Mommy, if a solar panel was big enough, could it fly an airplane?"
"Mommy, how does solar power work?"
"Mommy, when I grow up I'm going to make solar panels and make a thousand dollars a day!"
(To which I respond, more power to you son and can I live with you? LOL)
"Mommy, how come the caterpillar won't work when I stand inbetween it and the sun and make a shadow?"
This last question was after spending one afternoon playing with a solar powered toy from Fat Brain Toys. They sent over this toy for us to test out and he had great fun with it.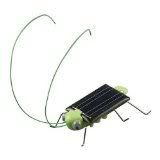 Frightened Grasshopper Solar Powered Bug
Fat Brain Toys has an awesome line up of high quality toys for kids that don't play by themselves. You know the types. Plug them in and sit back and watch?
They also offer toys with a wide range of "earthy" qualities, such as:
• made from sustainable sources
• renewable woods
• non toxic, kid safe vegetable dyes
• minimal packaging
• organic toys
• environmentally-themed toys
• toys made from recycled or reused materials
• toys integrating solar and alternative energy sources
• toys that run on "kid power" (talk about renewable energy sources!)
• toys ethically manufactured by socially responsible companies
I really don't like toys that require batteries. Even though we use rechargables, those still wear out eventually and they're also quite expensive.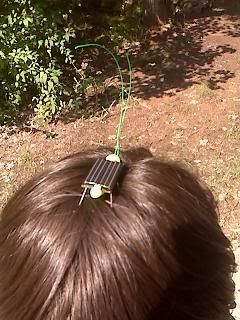 "Excuse me son, but you have a vibrating grasshopper on your head."
This toy took all of half a minute to assemble and once you place it in the sun, it hops around on the ground (or in your hair, if you're so inclined!).
Julien enjoyed this bug as you can see and still plays with it one month later. I think it helped keep those wheels turning in his head about alternative energy. He's excited about the fact that the sun's energy doesn't "wear out" like other sources.
You can check out Fat Brain Toys' line up here.