WFMW: Homemade Hot Cocoa
February 27, 2008
If you're new here, you may want to subscribe to my RSS feed. Thanks for visiting!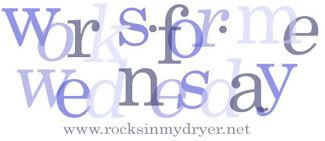 I don't know that I've ever bought a box of cocoa mix. Why would I, when homemade is almost as easy, much cheaper, and healthier too?
Case in point: A box of Swiss Miss cocoa mix contains the following:
sugar, modified whey, cocoa (processed with alkali), hydrogenated cocnut oil, nonfat milk, calcium carbonate, less than 2% of: salt, dipotassium phosphate, mono- and diglyderides, artificial flavor, carrageenan
Hmm… some of those things I just don't want my wee ones to eat. Plus, all that packaging… with the cardboard box it comes in plus the individually wrapped servings, it just seems so wasteful.
So, I thought I would share my Homemade Hot Cocoa recipe for this week's Works for Me Wednesday. It's a slight adaptation of the recipe that appears on the side of the Hershey's Cocoa containers.
Firstly, grab a medium sized saucepan with a heavy bottom. Put about a half cup of water in it and place it on medium/high heat. While the water starts to boil, add:
1/4 cup cocoa
1/2 cup Rapadura or Sucanat
a dash of sea salt
Let the mixture boil for a couple of minutes and stir it constantly. Then, turn it to low and add:
4 cups organic (I use raw) milk
1 tsp. all natural vanilla flavoring
Let that heat until it's as warm as you like. I usually dip out two cups for the girls right away while it's just warm, then let it heat up a minute longer for the boys and me. The whole process from start to finish takes LESS than 5 minutes.
You can also add a dash of cayenne to the adult's cups if you like. And, did you know that a cup of hot cocoa has more antioxidants than most people eat in two days? One more thing: If you like to drink Mochas, you can use a tablespoon of the cocoa/sugar mixture to a cup of strong, freshly brewed coffee, then add hot milk and skip the trip to the fancy coffee shop.  
Just when you thought I was done talking about chocolate. LOL!
More Posts By Carrie:
Comments