Last Saturday my Mom and I headed to a town about half an hour from here in order to go Yard Sale shopping.
This part of town is well known for its awesome yard sales. I took the middle seats out of my van so I could fill it up, lol!
Yard sales are one of those things I do, like thrift store shopping, to save money and help the environment too.
Yard sale prices are generally even better than thrift stores, but they require more digging and more effort.
I am going to share my finds from about 4 hours spent yard sale-ing. At the end I'll share how much I spent.
First, I'll share some of my best yard sale tips.
Start early. We head out at 7:30 because in this area, dealers come buy up good stuff from yard sales to sell at their stores. The early bird gets the worm… plus you can quit when it gets too hot.
Bring small bills. Don't make the host of the sale give you all their change. Bring lots of ones. These make it easier to bargain too. If you buy several items, you can ask if the seller will give you a deal. This will work much better if you take out what you're willing to pay and start handing it to them.
Don't be afraid to dicker. Yard sale hosts are expecting it. Don't be insulting though. If you buy something for .50, don't ask if they'll take a quarter. But if you're buying several items that total, say, $7, ask if they'll take 5. Sellers are more likely to dicker on the second day of their sale, and later in the day – they don't want to pack it all up and take it back inside their home!
On to my finds.
For the girls: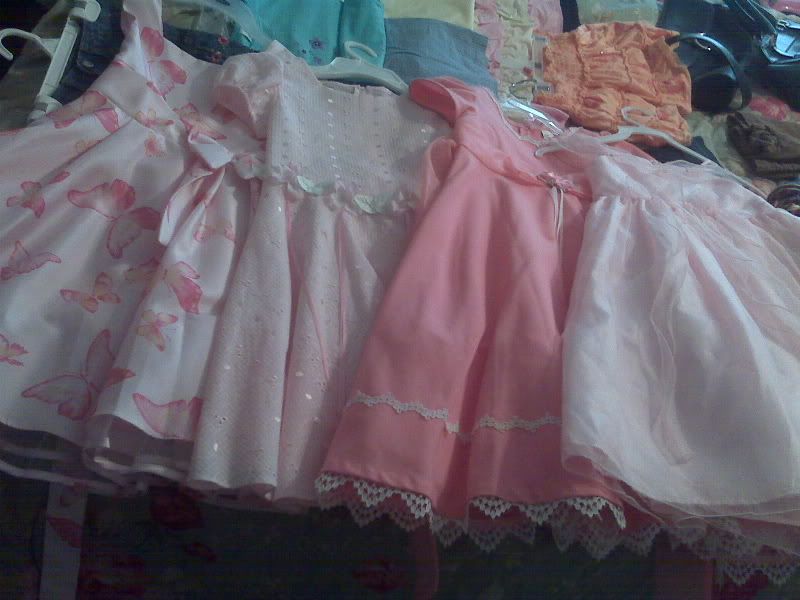 6 Dressy Dresses – (These were the best find of the day, at $1 each.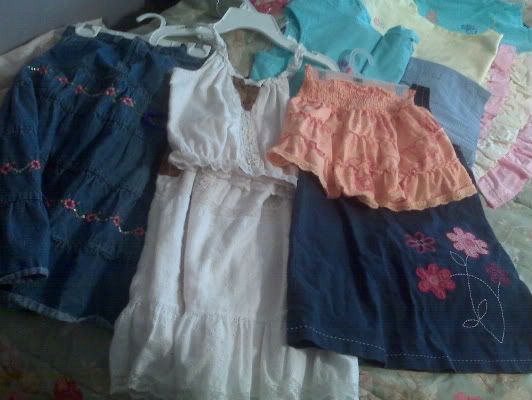 More skirts, dresses and skirt/top outfits – most were .50 and $1 each set.
Casual shirt and skort sets (two of these had tags still on)
Casual separates: shirts, shorts (and a brand new bag with 10 pairs of boy's undies)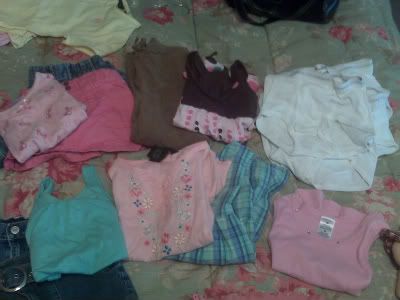 For the Boys:
A Spiderman backpack (my 7 year old has been asking for one for months), two pairs of shorts and two pairs of pants, two pairs of dress shoes and a dress shirt.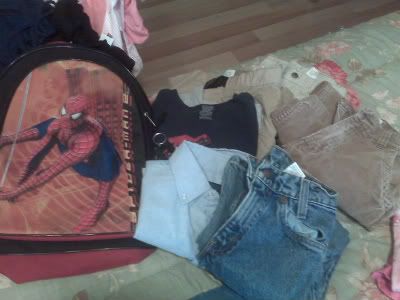 Books books books! (Not all pictured – actually a large box full)
Also a new mouse pad with a cool gel thing for my wrist – I love it! Stationary and journals and notebooks for the girls (they go through these like crazy).
And finally,
For Mama: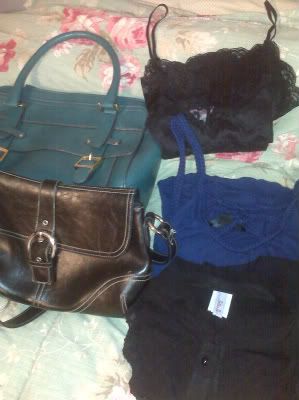 Two new purses, 5 summer tops
Jewelry: Sexy leather choker, black beaded necklace, red beaded earrings, black earrings, red watch, more..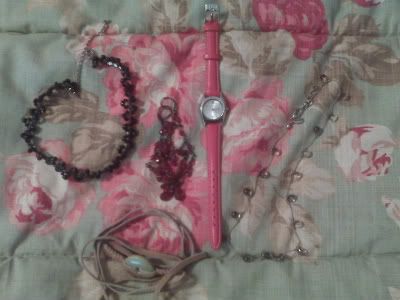 Some of the stuff I got isn't pictured, like more of the clothes and a brand new IKEA Fisk hamper.
Guess how much I paid for all this great stuff?
$39.
Do you do yard sales?