If you're new here, you may want to subscribe to my RSS feed. Thanks for visiting!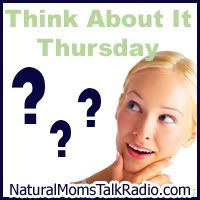 Here's something for Think About it Thursday.
The other day I was reading Jennifer Laycock's The Lactivist blog. Jennifer is a wonderful blogger who is obviously devoted to the cause of breastfeeding. But lately she's under fire from a few nitpicky mothers who want to strip her of her lactivist title… because she's weaning her two year old.
Yep, you heard that right. Jennifer is referring to the backlash as "Weaner Gate". Turns out you can't be a lactivist unless you allow your child to decide everything about the nursing relationship! Bet you didn't know that did you?
Last time I checked, giving a child 2 years of breast milk was a pretty darn good accomplishment. After all, according to recent stats, only about 12% of tots in this country get breast milk at one year of age, and it's probably far less for 2 year olds. Instead of getting a pat on the back, Jennifer is getting criticism.
Hmm.
I probably wouldn't have posted about this except today I got an email from a woman who subscribes to my newsletter. She had a problem with my mentioning that Tylenol would be ok for a nursing mom suffering pain from mastitis. She said:
"I would appreciate a correction of this statement to use tylenol.  It's simply not good advice."
While she did say that she "loved my work.  I felt all of your other tips were wonderful advice.", she still felt the need to comment that:
"I disagree with your suggesting a mother take tylenol for the pain of mastitis.  That is not anything close to a natural handling and is actually destructive advice.  Tylenol has known to cause liver damage and even death from a regular dose.  It's dangerous.  Have a look on mercola.com for more data.  Also, the baby would get the drug in the breastmilk and a young baby does not have a fully developed elimination system to metabolize the drug in his or her liver… I know of the dangers of drugs from my work."
Now, I am not picking on this woman in any way. I actually agree with most of what she's saying. I personally don't take Tylenol for aches and pains and don't give it to my kids either. However, I also know a couple of things from my work.
I know that most nursing mothers have an overly cautious view of using medications while breastfeeding due to the ignorance of the health care community. Time and time again I've heard moms say that their Doctor gave them that old knee jerk "pump and dump or wean" response when they were faced with having to take some medication. Many people in the health care community (erroneously) think that NO meds are safe for nursing moms – and weaning is recommended as the answer. That's very rarely true.
In fact, many medications can be used during lactation. There are several factors to weigh including the age and weight of the baby, the seriousness of the mother's health condition, the emotional effects of weaning, and the individual nature of the drug in question.
The comprehensive resource for this would be Medications and Mother's Milk by Thomas Hale. It's not a bad idea for a nursing mom to keep a copy of this book around, or at least have the phone number of a La Leche League leader who owns one.
Point two: For some women, especially those susceptible to it, breastfeeding pain will trigger postpartum depression. Mastitis can be awful. I had a bout with it several months ago when my youngest went on a nursing strike and I felt like I had the flu. My entire body hurt. I shook in bed all night long because of the fever and chills. But I knew what was going on and knew how to solve the problem so I chose to tough it out.
I would much rather see mom take a dose of an over the counter pain medication to feel better fast and then tackle the problem than to give up because nursing hurt. This is what so often happens:  Women start out breastfeeding, run into a problem they can't solve, and quit.
I'm for breastfeeding, not perfection.
There are those who think you're not a "real" nursing mom if you do this or don't do that. I'm for stopping this elitist type of thinking and celebrating any amount of breastfeeding.