February 16th, 2008 at 8:00am
Each Saturday I'll post a free salad recipe from my new salad cookbook. It ha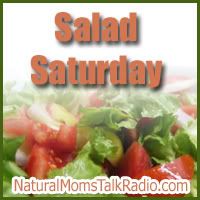 s over 365 recipes, so you can either buy it now or just hang around here for the next 6 years. LOL!
24-Hour Slaw

3/4 cup Rapadura or Sucanat
1 lg. head cabbage — shredded/not chopped
2 lg. red onions — thinly sliced
Hot Dressing — see below
Stir sugar into cabbage. Place half of the cabbage in a large bowl. Cover with onion slices. Top with the remaining cabbage.
Pour boiling hot dressing over slowly. Do not stir. Cover and refrigerate at once. Chill 24 hours. Stir well before serving.
HOT DRESSING
1 teaspoon celery seeds
1 1/2 teaspoons salt
1 teaspoon Rapadura or Sucanat
1 cup cider vinegar
1 teaspoon dry mustard
1 cup olive oil
Combine celery seeds, sugar, mustard, salt, and vinegar in saucepan. Bring to a rolling boil. Add oil, stirring, and return to rolling boil. Makes about two cups.